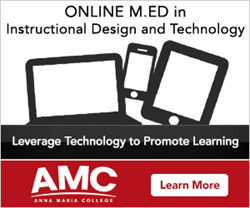 Anna Maria College has always recognized the impact that leveraging technology in learning techniques makes when it comes to information delivery and retention
Paxton, MA (PRWEB) February 17, 2015
Anna Maria College recently announced the online M.Ed. in Curriculum and Instruction is being retitled as the M.Ed. in Instructional Design and Technology. The change mirrors the innovation and technological advances in the industry and is reflective of the approach that Anna Maria College has valued in the development and offering of programs in both on-campus and online modalities.
"Anna Maria College has always recognized the impact that leveraging technology in learning techniques makes when it comes to information delivery and retention," said Dr. Christine L. Holmes, AVPAA at Anna Maria College.
"That is precisely why the Master of Education in Instructional Design and Technology was founded; it was designed to develop professionals in educational roles, both student-facing and corporate in nature. The program reemphasizes theories, strategies, and methods to design and integrate technology-based learning experiences to any instructional or training situation."
The curriculum, pedagogy and requirements of the program will remain the same. The name change simply, and more appropriately, aligns the program's description with that of the existing learning outcomes and content. In addition, the name change reflects a shift in the field that will elevate the degree within the market place for graduates. It is also expected new students interested in furthering their instructional design and technology skills will find this program and its coursework effortlessly.
To learn more about the M.Ed and other Anna Maria College online programs, visit http://online.annamaria.edu/ or speak with a Program Manager by calling 877-265-3201.
About Anna Maria College:
Anna Maria College is a private, not-for-profit, Catholic liberal arts institution accredited by the New England Association of Schools and Colleges, Inc., through its Commission on Institutions of Higher Education. Founded by the Sisters of Saint Anne in 1946, AMC's programs integrate liberal education and professional preparation that reflect the respect for liberal arts and sciences education grounded in the traditions of the Sisters of Saint Anne—educational innovation, service to others, and access to a quality education for all.
In addition to the various undergraduate and graduate programs offered at its campus in Paxton, Massachusetts, AMC offers numerous online degree options to reach the most diverse group of students possible. Its online programs mirror the close-knit nature of the College's campus community, with small class sizes that allow for mentoring relationships to develop between faculty and students.