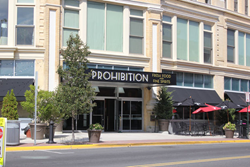 Asbury Park, New Jersey (PRWEB) February 12, 2015
Just when you think Asbury Park, New Jersey could not get any cooler, a speakeasy comes to town! Known for its restaurants, nightlife and popular entertainment venue The Stone Pony, the Jersey Shore town recently welcomed bar and eatery Prohibition to Cookman Avenue. Taking over the space vacated by the former Old Man Rafferty's, the unique restaurant emulating a Prohibition-era speakeasy has become the talk of the town.
Owned by brothers Frank, Matthew, and Christopher Gullace, Prohibition is an expansion of business for the family. The boys' father, Frank Gullace, Sr. owned a bar in Jersey City, New Jersey for 35 years and he currently owns The Shore House Bar & Grill in Point Pleasant, New Jersey. "Asbury Park is a growing area with an established community. The space is great so I jumped right on it. It felt like the right time," said Frank Gullace about the restaurant's opening in September.
While still undergoing renovations, the restaurant presents a great mix between its bar and dining offerings. "For me it's better to be in an area that is popular," said Gullace. "It's better than owning a business on an island where people have to go out of their way to get to you." Providing elegant black and white motif dining as well as 48 beers on tap at the bar, Gullace emphasizes that Prohibition offers the best of both worlds. "It's up to us to run the bar correctly," said Gullace. "People are going to be there."
Prohibition caters to everyone. "Our other place, The Shore House is casual and laid back and I've always wanted more than that," said Gullace. "I want people to feel like they can casually walk in with friends and watch TV, but if they want they can also get dressed up and have a nice dinner."
In the process of transitioning to a new menu including primarily steaks, chops and seafood, the eatery also entertains restaurant-goers with live music and events. Guests are invited to a painting class hosted once a month by the "Jersey Shore Paint Party." The cost is $35 a person and offers pay as you go food and drinks and instruction from professionals. "There are not a lot of places that do things like that," said Gullace. "We try to offer a variety of different events to give people a reason to come out." The venue will also be participating in Asbury Park's St. Patrick's Day festivities taking place on March 8, 2015, as well as other events. "We try to be as involved in the community as possible," continues Gullace. "Whenever something is going on in the area we are a part of it."
Prohibition is open Friday and Saturday from 12:00 pm to 2:00 am and Sunday from 11:00 am to 10:00 pm. Sunday Brunch is served from 11:00 am to 4:00 pm. The restaurant is closed Monday through Thursday for construction of the new speakeasy bar expected to open next month. Party packages and catering are available. Patio seating accommodates up to 100 guests. To view their menu, visit their website at http://www.prohibitionnj.com/ or call 732.455.3808. For more information on The Shore House Bar & Grill, visit their Facebook page at https://www.facebook.com/ThePBShoreHouse.
About Bielat Santore & Company
Bielat Santore & Company is an established commercial real estate firm. The company's expertise lies chiefly within the restaurant and hospitality industry, specializing in the sale of restaurants and other food and beverage real estate businesses. Since 1978, the principals of Bielat Santore & Company, Barry Bielat and Richard Santore, have sold more restaurants and similar type properties in New Jersey than any other real estate company. Furthermore, the firm has secured in excess of $500,000,000 in financing to facilitate these transactions. Visit the company's website, http://www.123bsc.com for the latest in new listings, property searches, available land, market data, financing trends, RSS feeds, press releases and more.