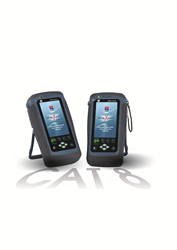 Building on our growth in 2014, Softing provides the lowest cost of ownership and highest performance in certifiers for enterprise networks and data centers
Knoxville, Tenn. (PRWEB) February 16, 2015
Softing Inc., a leading industrial automation and electronics provider, is featuring the WireXpert 4500 Cable Certifier at the 2015 BICISI Winter Conference and Exhibition being held at the Orlando World Center February 22-26. (http://www.bicsi.org/winter/2015/) One of the most advanced, cable certifiers available, the WireXpert 4500 is now offered through Softing's US channel partners.
The WireXpert 4500 was originally introduced by Psiber Data GmbH which Softing AG acquired in January 2014. WireXpert branding will change from Psiber to Softing over the coming months.
"We're looking forward to providing the WireXpert 4500 through more channels in North America," said Mark Knebusch, vice president of marketing for Softing Inc. "Building on our growth in 2014, Softing provides the lowest cost of ownership and highest performance in certifiers for enterprise networks and data centers."
WireXpert's dual control system enables one technician to run tests from either end of a cable, saving time and money. WireXpert is endorsed by leading cable and connectivity vendors worldwide. Proven accuracy and a 2.5GHz range make it one of the only testers capable of certifying today's TIA cabling standards as well as the new 2.0 GHz Category 8 standard currently under development. WireXpert 4500 has optional test adapters for all categories of copper patch-cords, multi-mode MPO cables, simplex encircled flux compliant multi-mode and single-mode links, industrial Ethernet cabling systems (1G and 10G), coaxial cables, and more.
"WireXpert 4500 was designed to be the best certifier available. And it maximizes an installer's investment since it can be updated to keep up with industry changes," said Knebusch.
About Softing
As of January 1, 2015 Softing Inc. is the North American business unit of Softing AG.
Softing AG is a leading global provider of products for Industrial Automation and for Automotive Electronics. For over 30 years, the core business of Softing Industrial Automation has been industrial data communication
Softing acquired Psiber Data GmbH in January of 2014. Psiber's cable testing products will be rebranded as Softing and sold through Softing channels. To find out more, please visit http://www.softing.us