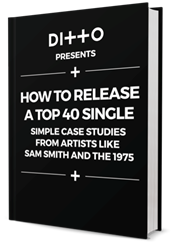 UK (PRWEB) February 16, 2015
CEO and founder of Ditto Music, Lee Parsons has announced the release of his first E-book 'How To Release A Top 40 Single' available to download for free now.
The e-book documents a step-by-step guide on how an unsigned artist can achieve a Top 40 Hit in the digital age. Ditto Music holds the Guinness World Record for the first digital only UK Top 40 single, from unsigned band Koopa.
How To Release A Top 40 Single divulges into Ditto's secret formulas that have resulted in 13 top 40 singles, a Billboard number 1 and Top 10 hits all over the world.
Founded in 2006, Ditto Music has become one of the world's leading online music distribution companies and now distributes over 80,000 artists. The award-winning service allows independent artists to sell music on iTunes, Google Play, Amazon and all other major music stores. Ditto Music also offers artists the most effective music pr services from a team of experienced radio pluggers, music pr's and social media experts.
Described by the Independent as 'A serious threat to major labels' the e – book draws examples from five different case studies, including one of its former, well known clients Sam Smith. Each case study gives indispensible information to the reader and how it can be translated for their own professional gain.
Case Studies:

Koopa & The SMS Campaign
Sam Smith & iTunes Instant Gratification
Alexa Goddard & The Right Cover Version
The 1975 & Spotify
How To Release A Top 40 Single author and music mogul Lee Parsons will be available to meet on his UK University tour this February. The Ditto Music entrepreneur will be bringing his knowledge and experience to students across the country, in a rare and exciting workshop tutorial.
The free e–book is a unique resource of information from a leader of its kind. It is available to download on all major stores such as Amazon Kindle and iBook.
For more information on Ditto Music or Lee Parsons, please contact Ditto's press office:
Conor Mallon
PR Executive
conor(at)dittomusic(dot)com
Notes To The Editor:
About The Author:
Lee Parsons from Birmingham UK, founded Ditto Music in 2006 with brother Matt Parsons. Lee currently resides in Ditto's US Nashville office whilst overseeing operations in the company's other offices.
Ditto Music:
Ditto Music is an online music distribution company that also offers labeling services such as; PR, Social Media, Radio Plugging and Graphic Design. Ditto Music became the first ever distribution company to achieve a UK Top 40 Hit for a digital only single. Since then Ditto Music has become of the leading distribution companies in the world, with offices in the US, UK and AU.