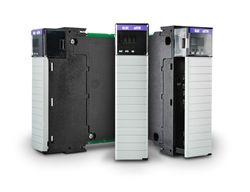 We are very pleased to have our OPC UA Server Module for ControlLogix certified by the foundation it was designed for
Knoxville, Tenn. (PRWEB) February 18, 2015
Softing Inc., a leading industrial automation and electronics provider, is proud to announce their OPC UA Server Module for ControlLogix was recently certification by the OPC Foundation. The Enterprise Appliance Transaction Module is now certified to both the UA 1.02 Embedded Server Profile and UA 1.02 Data Access Server.
"We are very pleased to have our OPC UA Server Module for ControlLogix certified by the foundation it was designed for," said Mark Knebusch, vice president of marketing for Softing Inc. "This module is both fast and secure and demonstrates excellence in compliance, interoperability, and robustness in the OPC foundation certification test lab."
Built and designed as a single slot ControlLogix module that provides OPC UA Server functionality, Softing's 56eATM OPC UA Server features two 10/100/1G Ethernet ports, an embedded UA server profile, Complex Type Facet ControlLogix UDT support (6.5.11), OPC UA client-server communications security, and client compatibility for scalar tags, UDT component tags and arrays. Secure and safe, Softing's module is virus resistant and only accessible through the configuration software with adjustable user privileges.
"Softing's 56eATM utilizes windows-based software which gives it a 'configure and go' set-up," said Knebusch. "This ease of use combined with power and security have created one of the most robust interoperability modules in the automation industry."
To find out more about Softing's OPC UA Server Module, visit http://www.softing.us/
About Softing
As of January 1, 2015 Softing Inc. is the North American business unit of Softing AG.
Softing AG is a leading global provider of products for Industrial Automation and for Automotive Electronics. For over 30 years, the core business of Softing Industrial Automation has been industrial data communication
Softing acquired Psiber Data GmbH in January of 2014. Psiber's cable testing products will be rebranded as Softing and sold through Softing channels. To find out more, please visit http://www.softing.us