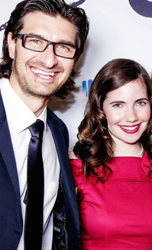 (PRWEB) February 13, 2015
Film, fashion, music and theater have the strongest influence in culture today, and God is using these platforms to reach the world. Actors, models, singers, dancers and comedians are rising to make good bolder in entertainment. On February 21 and 23, AMTC, an organization that equips and launches aspiring talent, is seeking media missionaries who will help change the face of media.
Each AMTC audition is hosted by an industry VIP who believes in mentoring the next generation of upcoming artists. Scouts for the five February auditions will be 8 DAYS Director Jaco Booyens (Dallas), Founder Carey Lewis (Chicago and Atlanta), and Sing-Off star John "Jontez" Montes (Philadelphia and Lancaster).
AMTC graduates will excel in this industry when they are not merely talented, but excellent - even more excellent than their industry counterparts. Ben Davies (Rumors Of Wars, Courageous), Stephen tWitch Boss (So You Think You Can Dance, Ellen) and LaRecia Hines (Vogue, Tommy Hilfiger) are just a few out of thousands of AMTC's successful graduates.
Saturday, Feb. 21, 2015 Auditions:
Dallas, TX: AMTC Dallas: 440 Parker Square. Flower Mound, TX 75028. 1 p.m. audition available
Chicago, IL: Crowne Plaza Chicago O'Hare: 5440 North River Rd. Rosemont, IL 60018. 9 a.m. and 1 p.m. auditions available.
Philadelphia, PA: Philadelphia Airport Marriott: One Arrivals Rd. Philadelphia, PA 19153. 9 a.m. and 1 p.m. auditions available.
Monday, Feb. 23, 2015 Auditions:
Lancaster, PA: Eden Resort & Suites: 222 Eden Rd. Lancaster, PA 17601. 3 p.m. and 7 p.m. auditions available.
Atlanta, GA: AMTC Atlanta: 2000 Powers Ferry Rd., SE. Suite 1-1A. Marietta, GA 30067. 3 p.m. and 7 p.m. auditions available.
Performers can learn more or register for one of these auditions at http://www.amtcworld.org. For frequent updates, please follow AMTC on Facebook.