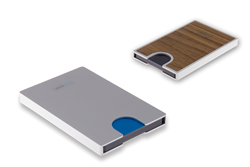 Plop in your favorite SSD and enjoy the design, flexibility and speed.
Potsdam, Germany (PRWEB) February 14, 2015
SSD drives are extremely fast, light, super rugged and have a nice, lean form factor. Precisely the attributes for a perfect, flexible storage module. Still most SSDs are locked in a casing. The pure plop and wood plop are the first enclosures in which such drives can be plopped in directly.
This is a great feature for videographers, movie and photo enthusiasts, as they heavily use such storage modules. But also the "normal" users will ramp up the amount of drives. One reason is the heavily growing file sizes due to 4k resolutions. Another boost will be the dropping prices of SSDs. When having more than one drive, the "plop in" feature is a sustainable value for prosumers and consumers. It is simply not economical nor ecological to buy an enclosure for each SSD.
Beyond the benefits, the plops come with appealing designs. The slim and full anodized aluminum body makes the pure plop a great fit for Macs and other stylish equipment. The top of the wood plop has a wooden inlay with a hard oil finish. Buyers have a choice of different woods. Either way, the wood plop has a great haptic. And both have excellent read and write performance. The USB 3.0 chipset has USAP support embedded and enables the highest data transfer speed. A blue LED indicates activity.
Summary of the plop SSD enclosure:

Plop in feature for the easiest exchange of SSD drives
Great design and haptic
Choices of different woods or pure aluminum
Slim body with a height of just 0.4in
Highest data transfer rates with UASP support
An indiegogo campaign was started to exchange thoughts, verify the plop idea and to fund the ramp up of inventory. In return backers will be the very first to get their hands on the stylish and flexible plop SSD enclosures. To find out more, visit the indiegogo campaign of stockplop.
stockplop is a Germany-based design company. Their goal is to create and offer products for the office and the job which are simple and streamlined for their purpose. Beyond the functionality, stockplop believes that a clean and great design of products has a positive impact on mood while working. All this will boost one's creativity, effectiveness and finally his or her performance and personal fulfillment.
For more information on the plops you can watch the video clip.