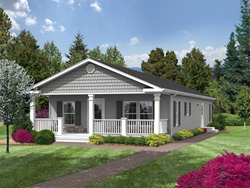 Chandler, Arizona (PRWEB) February 12, 2015
Factory Expo Home Centers, the nation's largest factory located Manufactured Home Retailer, announces the grand opening of their newest home Sales Center at 77 Horseshoe Rd. in Leola, Pennsylvania. Offering a wide selection of custom built Mobile Homes, Manufactured Homes, and Park Model Homes, home buyers visiting the Factory Expo Home Center have the opportunity to view and purchase the most current showcase models, as well as take a complementary, guided factory tour allowing them to experience a behind the scenes look at how their quality home is built.
The new Sales Center in Leola is Factory Expo Home Centers' 15th location. Homes at this location will be built on site by Skyline Corp. Manufacturing energy efficient homes built with superior quality, craftsmanship and value, Skyline is an established leader in the housing industry. The Leola Sales Center will offer multiple series of Manufactured Homes and Park Model Homes utilizing modern floor plans and amenities suited to meet the needs of nearly any budget.
For more information, contact the Leola Sales Center at 1-800-663-9241, or visit the website at http://www.PennsylvaniaFactoryDirect.com.
About Factory Expo Homes: Factory Expo Home Centers was founded in 1999 and specializes in all aspects of the park model home, mobile home and manufactured home industries. Based in Chandler, Arizona, and serving the entire contiguous United States, Factory Expo Home Centers has shipped over 9,000 homes to satisfied families and operates Sales Centers in Arizona, Texas, Oregon, Nebraska, Pennsylvania, Virginia, Indiana, Florida, Tennessee and North Carolina and is the nation's largest factory located Manufactured Home retailer. Product offerings include Park Model Homes, Mobile Homes, and Manufactured Homes. Visit FactoryExpoHomes.com for more information.