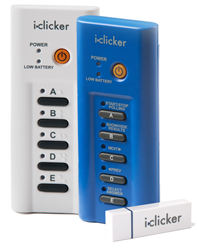 The Middle East region is an important initiative for i>clicker. We are the market leader in the U.S. and many of our customers have partner campuses in the Middle East and we want to ensure continuity
New York, NY (PRWEB) February 13, 2015
i>clicker has acquired the appropriate certifications to sell product for use in the region and configured its innovative software, i>clicker + remote and base receiver products to function within the 2.4GHz radio spectrum. i>clicker's polling solution is known for its ease of use and reliability which serves the increasing use of technology in the education sector within the Middle East.
The number of higher education institutions across the Gulf region have grown mainly on the back of rising enrollment rates in GCC member countries, including Bahrain, Kuwait, Oman, Qatar, Saudi Arabia and the United Arab Emirates.
" The Middle East region is an important initiative for i>clicker. We are the market leader in the U.S. and many of our customers have partner campuses in the Middle East and we want to ensure continuity," said Kevin Pawsey, President of i>clicker. "The easy to implement and simple to use philosophy of i>clicker also extends to many uses outside of students in school. We are seeing further applications in professional training and development situations in a wide range of verticals such as healthcare, manufacturing and production, the travel industry and within Government departments such as the military."
Pawsey continued, "We are seeing growth of mobile devices in the region as well. Our new mobile solution, REEF Polling by i>clicker, will launch in the fall of 2015 and will allow K-12 schools, higher education institutions and non-education environments to leverage world class technology that focuses on increasing audience participation in any presentation setting. REEF Polling is the first product within our scalable, mobile-optimized platform, REEF Education, which offers integrated communication tools, data and analytics to support the university services ecosystem."
To grow further in the region, Macmillan New Ventures, the holding company of i>clicker and a division of Macmillan Science and Education, has partnered with Samama Holding Group in Saudi Arabia to be a key distribution partner.
"We have already facilitated a significant i>clicker product implementation in one of KSA's leading tertiary institutions, King Saud University, and are shortly rolling out this world-class technology to a number of Centres of Excellence throughout the Kingdom, and this is just the beginning," explains Harry Kirk, Senior Business Development Advisor with Samama.
The addition of a sales function in the Middle East adds to i>clicker's global roster which already includes Australia, New Zealand, Northern Europe and the United Kingdom. i>clicker has further plans to expand into other regions throughout 2015 and into 2016 and is exploring additional partnership opportunities with prospective channel partners.
Globally, educational institutions are choosing i>clicker because of the company's focus on a hybrid solution that supports both conventional remotes as well as a pure digital solution. Not every student owns a smart device, and many higher education IT infrastructures cannot support a mobile-only solution. The combination gives schools, instructors and students freedom of choice in the classroom.
For more information about global partnerships, email kevin.pawsey(at)macmillan.com
For more information on i>clicker, please visit: http://www.iclicker.com
About i>clicker:
i>clicker was built by educators for educators with the goal of keeping students focused on content, not technology. i>clicker is the most widely used student response system in North American higher education, adopted at more than 1,100 institutions and used by more than three million students.
i>clicker's student response system continues to be recognized for its superior reliability, intuitive software, and focus on formative assessment and pedagogy. Today, i>clicker is powered by flexibility giving professors the choice to standardize with one remote, or take a blended approach of mixed mobile and conventional remotes in their classrooms. i>clicker is a product of Macmillan New Ventures.