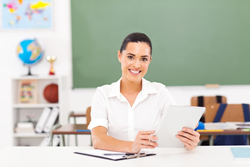 The 5-hour courses help both new and experienced teachers become dynamic educators.
Manchester, NH (PRWEB) February 18, 2015
Intelitek, a leading provider of modern educational technology with over 30 years of experience, is introducing an exciting new range of online self-paced courses for professional development. These 5-hour courses help both new and experienced teachers become dynamic educators. Designed to give educators the toolkit to keep students' minds engaged and increase their commitment to study, the courses also offer teachers a flexible way to earn competitively-priced CEU credits.
Introduction to Online Teaching Methodologies/Flipped Classroom teaches educators how to flip a classroom, use online teaching to its full potential and maximize the use of one-on-one contact time in the classroom. Educators will learn the key attributes of the new tech-savvy student, how they learn, and how to best facilitate this learning. After successfully completing the course, teachers can better use online discussion boards, construct courses that work well online and manage a flipped classroom effectively.
How to Tweet and Blog for Educational Purposes explains the complex world of Twitter and blogging in education. These powerful tools, when used effectively, create a personal learning network for students, enabling their critical thinking. A teacher who completes this course will be able to make the best use of Twitter, set up a blog, and use both of them effectively to engage students.
21st Century Classroom offers teachers the power to using technology to productively modernize their classroom. In such a classroom, students gain the knowledge and skills they will need in the real world. This course teaches how to use technology to facilitate learning instead of creating a distraction. Teachers completing the course will be knowledgeable in new learning tools that simplify and streamline the modern classroom.
Courses are delivered through Intelitek's revolutionary modern learning management system LearnMate7, enabling teachers to complete the courses online at their own pace. The online-provided curriculum is not leader-led and has no stop or start time, allowing teachers to complete the courses in a manner that best suits their busy schedules.
Teachers will receive a full downloadable completion certificate at the end of each course that details the learning objectives completed and the tasks undertaken. Intelitek can provide further documentation should the Continuing Education Units granting body require it.
Each 5-hour course costs just $49 per participant, with new courses being added on a monthly basis.