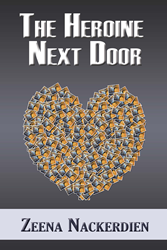 Brooklyn, New York (PRWEB) February 14, 2015
Navigating life in apartheid-South-Africa and a Western world responding to the digital information age, emergent diseases, and terror can be a tall order for any individual, especially a Muslim woman. In her debut novel, The Heroine Next Door, the author draws upon her own observations to show how a fictional character, emerging from the shadows cast by personal and political upheavals, gains a sense of her own identity and contributes knowledge gained in the USA to improving the management of the HIV/AIDS epidemic and other illnesses in South Africa.
As an immigrant living in New York, 9/11 features prominently in the main character, Leila's, story. Her epiphany to chart a different course in her life came, in part, as a result of deciding to channel the death of her fiancée and 9/11 victim, Khalid, in a more positive way. A series of Facebook posts prompt the reader to embark on a journey back in time with Leila in order to gain insights about her life and the lives of three Muslim friends (who represent a fraction of the divergent ways in which Muslims may potentially be expressing themselves in Western societies). Ultimately each journey is as unique as a fingerprint. For Leila, who was unassuming and reactive to adversity for most of her life, using her expertise in science to aid South Africans straining under the burden of different diseases, proves to be an inspirational experience.
This book is available online and can be purchased at http://www.bookventure.com, http://www.amazon.com and http://www.barnesandnoble.com.
About the Author
Zeena Nackerdien is a dual US and South African citizen. She obtained a PhD degree in Biochemistry from the University of Stellenbosch in South Africa. She has been a research chemist at the National Institute of Standards and Technology in Maryland and a senior research associate at The Rockefeller University in New York. She is the author of several publications in scientific journals and a book chapter on topics ranging from biomarkers for oxidative damage to perspectives on the associations of microbes with breast cancer. As a scientist turned patient advocate and writer, she is intensely interested in building relationships with people from different cultures through storytelling and education. She currently lives in Brooklyn, New York.
The Heroine Next Door
by Zeena Nackerdien
Publication Date: January 2015
Price: $9.63; 154 pages; ISBN 978-1-941736-24-1
*To request a complimentary paperback review copy, you may contact Marie Rice at BookVenture.com by phone at (877) 276-9751 or by email at info(at)bookventure(dot)com.