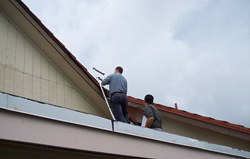 We feel the combination gives adjusters a unique, low-cost approach to becoming a Florida property adjuster.
Harpers Ferry, WV and Tampa FL (PRWEB) February 17, 2015
WeTrainAdjusters announces the release of two new training programs designed for people interested in becoming a Florida property adjuster. When taken together, individuals can learn the basics about property adjusting and then quickly and easily get and maintain their license.
The Adjuster Preview program is designed to help individuals that are interested in property adjusting but aren't sure if the job is a good fit. The package includes two of WeTrainAdjusters most popular introductory courses: Insurance Basics and Introduction to Catastrophe Claims Adjusting. After taking the two courses, students can decide if adjusting is the right career for them.
To help students keep their initial investment low, WeTrainAdjusters is offering the Adjuster Preview package for $4.99.
WeTrainAdjusters is also releasing their Obtain and Maintain package. This program gives adjusters a combination of training and services that will allow them to get their Florida adjusters license, have their resume professionally reviewed and edited, and lock in their path to maintain their license's continuing education (CE) requirements. To further help the newly licensed adjuster get their career successfully launched, the program also includes a consultation with WeTrainAdjusters popular Adjuster Training Center.
The Obtain and Maintain package is available for $319 on the WeTrainAdjusters website.
"WeTrainAdjusters is very excited to offer these two new programs" says Scott Hutton, Training Manager for MindCross Training, the company that developed WeTrainAdjusters. "We feel the combination gives adjusters a unique, low-cost approach to understand what's needed to be an adjuster, obtain their license and then ensure that they are successful once they enter the profession".
Individuals that only want to get their Florida Adjusters license can also sign up for WeTrainAdjusters online licensing course Florida PPIA Licensing and Designation Program for $288.
More information can be found at the WeTrainAdjusters website or by contacting them directly at 304.725.2617.
About WeTrainAdjusters
WeTrainAdjusters is an insurance-focused area of MindCross Training. Founded in 2001, MindCross Training is a training development company focused on providing various types of cost-effective training and training services. MindCross is currently working with partners in the insurance industry to provide adjusters with the best training available. MindCross is an authorized Continuing Education (CE) provider in Texas and Florida.