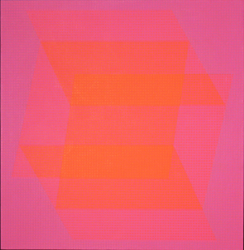 Santa Fe, NM (PRWEB) February 12, 2015
"Post-Op: 'The Responsive Eye' Fifty Years After", the first in a series of presentations commemorating the fiftieth anniversary of the ground-breaking "Op Art" exhibition organized by William C. Seitz at the Museum of Modern Art, focuses on the aesthetic pursuits and choices during the careers of a select group of American artists who were included in "The Responsive Eye." "Post-Op" and its successor exhibits examines the "roster" of artists from that seminal exhibition and compares and contrasts those artists' endeavors from the 1960s with work from later in their careers.
"Post-Op: 'The Responsive Eye' Fifty Years After" inaugurates a series of shows planned by the David Richard Gallery critically analyzing and reconsidering "The Responsive Eye," which debuted at MoMA in February of 1965 and traveled to several American venues over the course of a year. David Richard Gallery's "Post-Op" sequence is organized by art historian, curator and critic Peter Frank and gallerist-historian David Eichholtz.
Featuring more than 34 objects by 17 artists, "Post-Op: 'The Responsive Eye' Fifty Years After" focuses primarily on the artists and their interests in visual perception and less on the cultural phenomenon of Op Art per se. The exhibition will feature artwork by the following artists, all participants in "The Responsive Eye": Richard Anuszkiewicz, Hannes Beckmann, Karl Benjamin, Ernst Benkert, Francis Celentano, Thomas Downing, Lorser Feitelson, John Goodyear, Francis Hewitt, Leroy Lamis, Mon Levinson, Alexander Liberman, Ed Mieczkowski, Oli Sihvonen, Julian Stanczak, Peter Stroud and Tadasky.
"Post-Op: 'The Responsive Eye' Fifty Years After" opens February 25, 2015 and remains on view until April 12. An opening reception with the curators will be held on Friday, February 27, 5:00 - 7:00 PM. There will be a gallery talk with Peter Frank, David Eichholtz, and artist Tom Martinelli on Saturday, February 28, 2:00 - 3:00 PM. An exhibition catalogue with an essay by Peter Frank will be available.
The gallery is located at 544 South Guadalupe Street, Santa Fe, New Mexico 87501, phone 505-983-9555 in the Santa Fe Railyard Arts District.
David Richard Gallery, a contemporary art gallery in Santa Fe, specializes in post-war abstract art including Abstract Expressionism, Color Field, geometric and hard-edged painting, Op Art, Pop Art, Minimalism, Feminism and Conceptualism in a variety of media. Featuring both historic and contemporary artwork, the gallery represents many established artists who were part of important art historical movements and tendencies that occurred during the 1950s through the 1980s on both the east and west coasts. The gallery also represents artist estates, emerging artists and offers secondary market works.