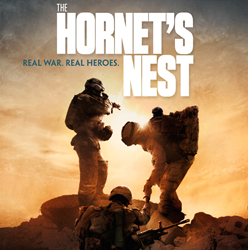 This film exemplifies the heroism and courage of our military personnel who face endless battles, roadside bombings and sniper fire from an invisible enemy.
Costa Mesa, California (PRWEB) February 12, 2015
Working Wardrobes, an Orange County, California nonprofit specializing in helping people overcome difficult challenges to find work and achieve self-sufficiency, today announced it is hosting a special screening of the powerful documentary, The Hornet's Nest, on Thursday, March 12th at 7:00 p.m. at the Lido Live Theater in Newport Beach. Admission is free thanks to generous sponsor Plaza Bank, a full service community bank serving the business and professional communities in Southern California and Las Vegas, Nevada.
The Hornet's Nest shares the story of Mike Boettcher and his son Carlos embedded with the 101st Airborne Screaming Eagles "No Slack Battalion" in the Kunar Province of Afghanistan as the troops engaged hundreds of Taliban in Strong Eagle III. The 95-minute film follows Mike and Carlos as they try to reconnect as father and son, while providing unparalleled access to the action on the front lines, showcasing some of America's most advanced fighting units.
The Hornet's Nest was directed and produced by Christian Tureaud and David Salzberg through their HighRoad Media banner in association with BASE Productions, Inc. "The Hornet's Nest is a riveting, powerful film that every American should see," said Dr. William Perry, Former Secretary of Defense under President Clinton and Current National Security Advisor.
"This film exemplifies the heroism and courage of our military personnel who face endless battles, roadside bombings and sniper fire from an invisible enemy," said Harry Humphries, former Navy SEAL and Executive Director of VetNet, a division of Working Wardrobes that provides career readiness and life skills services to veterans returning from war. "The film also builds awareness for the support our troops need when they return from service."
Working Wardrobes' VetNet division provides training and job placement services for veterans, helping them successfully transition to the civilian workforce. It also partners with companies around Orange County to provide a working knowledge of the veteran talent pool and the advanced life skills they bring as employees, including leadership, loyalty, mission dedication, organizational skills and a strong work ethic.
A special discussion and Q & A session with David Salzberg, the film's co-director and producer, will immediately follow the screening.
"To say this project was important to me is an understatement," said Salzberg. "This film is critically important for all civilians to see. It is not scripted, and it is not a Hollywood representation. It is an up-close look at the extreme situations our military members face on the front lines. I'm proud of the film, and I'm pleased to be able to screen it in conjunction with the VetNet team who work tirelessly to help veterans find jobs after service."
Gene Galloway, a former Marine and President and CEO of Plaza Bank, says his organization sponsored this event to build awareness of the need for veterans' services post-war.
"We hope this film sheds more light on just how much military members give to our country," said Galloway. "We also hope to educate the community on how much support our veterans need, and deserve, as they return home and make the difficult transition to civilian life."
The public is invited to join the screening of this incredible documentary.
Screening of The Hornet's Nest
Thursday, March 12, 2015
Lido Live Theater, 3459 Via Lido, Newport Beach
7:00 p.m. – Doors open
7:30 p.m. – Film begins. Discussion with the film's producer, David Salzberg, to follow the screening. Concession available for purchase.
Space is limited. To RSVP for this event and secure your seat, visit: http://www.workingwardrobes.org/hornets-nest-screening/. To learn about additional sponsorship opportunities, contact Megan Harless at (714) 210-2460 or by email at meganh(at)workingwardrobes(dot)org.
About Working Wardrobes
Working Wardrobes is an independent nonprofit organization that empowers men, women, veterans, and young adults overcoming difficult challenges to confidently enter the workforce and achieve self-sufficiency. The organization provides career training, job placement assistance and professional wardrobe services in an environment of dignity and respect.
Since 1990, Working Wardrobes has grown to serve over 80,000 men, women, veterans and young adults overcoming difficult challenges including alcohol and substance abuse, prison re-entry, homelessness, catastrophic illness, traumatic financial losses, military to civilian transition and underemployment. It assists CalWorks recipients, clients of social service agencies, and individuals in 60 shelters or programs in Orange County, Los Angeles, San Diego and the Inland Empire. The Working Wardrobes social enterprise model serves as an example of self-sustainability to organizations nationwide.
Working Wardrobes' current board of directors includes (in alphabetical order by last name): Derek Benson, Union Bank; Jodi Chavez, Accounting Principals; Anna Conrekas, US Bank; Mandi Dossin, DGWB; John Gates, Trimor Company; Harry Humphries, GSGI, Inc.; Bob Hurley; Stephen Kelley, Health Essentials, LLC; Michelle Koontz, Fluor; Jean Latu, Ingenio Solutions; Darryl Martin, Sentinel Offender Systems, LLC; Emily Reynolds, ADP; Vanessa Ryan, The Allergan Foundation; Jerri Rosen, CEO, Working Wardrobes; Jeffrey Shepard, Hughes Marino, Inc.; Kim Shepherd, Decision Toolbox; Rich Shugg, Autobytel, Inc.; Carrie Swanson, The Boeing Company; Nicha Tabrizi, Wells Fargo; and Mike N. Vo, Law Offices of Mike N. Vo.
About Plaza Bank
Plaza Bank is a full service community bank serving the business and professional communities in Southern California and Las Vegas, Nevada. The Bank is committed to meeting the financial needs of small to middle market businesses and professional firms with loans for working capital, equipment and owner-occupied commercial real estate financing and a full array of cash management services. Our bankers are experienced, professional and knowledgeable.
On January 14, 2015, Plaza announced the execution of a definitive agreement providing for the merger of Bank of Manhattan with and into Plaza Bank. The combined bank will continue to serve its Southern California and Southern Nevada customer base and all existing branches of both banks will remain open after the merger. On a pro forma basis, based on financial information as of December 31, 2014, the banks together have assets of approximately $1.0 billion, with deposits of approximately $850 million.
For more information, call President and CEO Gene Galloway at (949) 502-4309 or (702) 277-2221.
About HighRoad Media
HighRoad Media, Inc. is based in Beverly Hills, California and is a full-service entertainment company that develops, produces, distributes and markets entertainment content in all mediums worldwide. Most recently, the Principals at HighRoad produced the feature film entitled, "The Perfect Game," the feature length documentaries entitled "Running the Sahara," "For Right or Wrong" and "La Source." The Principals at HighRoad have collected over 150 awards, including numerous awards at major film festivals around the world.
http://thehornetsnestmovie.com/home
https://www.facebook.com/TheHornetsNestMovie