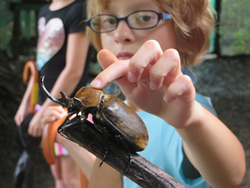 "These countries provide unique, safe, hands-on culture and wildlife experiences that will engage explorers of any age."
Ann Arbor MI (PRWEB) February 12, 2015
Journeys International, the first adventure travel company to offer trips designed specifically for families, announced today the top 10 family destinations for 2015:

Costa Rica
Peru
Panama
China
Japan
Thailand
Tanzania
South Africa
Galapagos (Ecuador)
Indonesia
"Firsthand research, feedback from our clients, and the expert knowledge of our on-the-ground guides indicate that these 10 destinations offer the very best opportunities for family travelers in 2015," said Robin Weber Pollak, President of Journeys International. "These countries provide unique, safe, hands-on culture and wildlife experiences that will engage explorers of any age."
Even though family travel has been in the news recently as a "hot" travel trend in 2015, Journeys for Families has successfully guided families in destinations all around the world for decades. "This is not a new trend for us; Journeys for Families is the expert in family travel and has been for years," said Sally Grimes-Chesak, Director of Marketing and Family Programs. "Our itineraries focus on providing activities that interest both kids and adults, while allowing the oh-so-important but oft-ignored downtime that is key to a good family trip. We aim for "home base" hotel stays that minimize moving and repacking during the trip. And, our hand-picked guides possess a unique energy and excitement that makes kids feel right at home."
Journeys is especially excited about three trips designed specifically for families with teenagers, Costa Rica Adventure for Teens, Wild Indonesia for Families with Teens, and Incas & Amazon for Families with Teens. "Most companies have family trips that focus on the younger kids, but rarely plan specifically for teenagers," Grimes-Chesak said. "We understand that different ages of kids require different itineraries, and we built these three trips specifically around the interests and needs of older kids."
In 2015, Journeys for Families has over 20 itineraries in 18 destinations, and a total of nearly 30 family group departures scheduled. Plus, itineraries can be customized and planned around the dates that work for the travelers.
About Journeys International
Based in Ann Arbor, MI, Journeys International has been creating guided, custom and family adventures for international travelers since 1978. Family-owned and operated, Journeys International's private and small group trips emphasize cultural and environmental awareness, and family trips are designed with all ages in mind. Because of long-standing, unique and personal relationships with guides around the world, Journeys trips offer a superior experience that travelers won't find with any other travel company. http://www.journeysinternational.com.