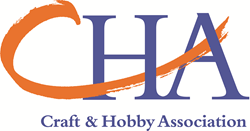 Elmwood Park, New Jersey (PRWEB) February 12, 2015
The Craft & Hobby Association's (CHA) Designer Trend Committee has just released their annual trend report for 2014.
Categories and cutting-edge trends featured in the report include:

General Crafts – crafters are using their own artwork with electronic die cutting machines, allowing them to do small production runs of their own designs – perfect for crafters that sell their creations.
Children's Crafts – tie-dye crafts have reemerged with the development of less complicated techniques and kits, making the process simple for anyone.
Mixed Media – collage continues to grow with the continued popularity of the Gelli Plate, a product that has crossed into every niche of the art and craft market.
Paper Crafts – wood veneer cutouts are rising in popularity and may be seen in many designer collections.
Home Décor – the merging of global culture continues to have a big impact on design trends.
Wearable Art – fashion is showcasing and drawing inspiration from art including street graffiti, tribal designs, and works created by the Masters like Vincent Van Gogh.
Needle Arts – embroidery is at the forefront of needlework trends this year.
Jewelry Trends – ear jewelry is a focus right now with ear cuffs, ear jackets, ear crawlers, and faux piercings all making a comeback.
Reporting on these trends and more are the members of the Designer Trend Committee: Carmen Flores Tanis for General Crafts, Shannon Bielke on Children's Crafts, Seth Apter for Mixed Media, Eileen Hull for Paper Crafts, Vicki O'Dell for Home Décor, Linda Swingle for Wearable Arts, Terry Ricioli (Team Lead) for Needle Arts and Suzann Sladik Wilson for Jewelry.
"We are excited to release the 2014 Trend Report to our members," stated Andrej Suskavcevic, President & CEO, CHA. "This report gives insight into the hottest trends spotted by experienced craft industry designers as well as a first look at what is to come for 2015."
"Designers play an essential part in the craft industry and can make a difference in connecting manufacturers and retailers to consumers. The Designer Section Trend Committee is happy to be able to present this report to the general Association and proud that it has already been used to promote connections and business in the industry," said Terry Ricioli, lead of the CHA Designer Trend Committee.
This report is available exclusively to CHA members and can be downloaded from the CHA website at the following link: http://buff.ly/1uRu9Pl
Interested in becoming a CHA member? Contact us at membership(at)craftandhobby(dot)org.
ABOUT THE CRAFT & HOBBY ASSOCIATION
The Craft & Hobby Association (CHA) is an international nonprofit trade association consisting of thousands of member companies engaged in the design, manufacture, distribution and retail sales of products worldwide in the craft and hobby industry. For more information about CHA, membership or its award-winning CHA Conferences and Trade Shows, visit http:// http://www.craftandhobby.org.
ABOUT THE CRAFT HOBBY ASSOCIATION DESIGNER SECTION
The CHA Designer Section bridges the gap between manufacturers and craft enthusiasts through professional services designed to educate and inspire the public. The Designer Section has an established leadership council, as well as other Section committee volunteers to support continuing designer education, networking opportunities for individual business growth, outreach to other CHA categories and designer community support to help facilitate an environment conducive for the growth of the individual members within the section.
For a list of current CHA Designer Section Committee Members follow this link: http://tinyurl.com/ojlwol9