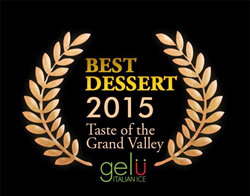 We are so thankful and grateful to those who sampled our ice and voted for us.
GRAND JUNCTION, Colo. (PRWEB) February 14, 2015
In their first-ever appearance at the 13th annual Taste of the Grand Valley, Gelu Italian Ice of Grand Junction, Colo., won by popular vote the "Best Sweet Creation" category, beating hometown legends Enstrom Candies and 2014's winner Pattie's Tiny Cakes, and others.
"We were so surprised to hear our name announced. It was obviously our goal to win 'Best Sweet Creation' but I wasn't sure we'd do it with the amazing competition we had," said Karin Gookin, Gelu Italian Ice co-owner.
In addition, Gelu Italian Ice took 2nd place in the "Best Snack" category.
"We are so thankful and grateful to those who sampled our ice and voted for us," Gookin said.
Taste of the Grand Valley was held Feb. 9 and is the signature fundraising event for United Way of Mesa County. The annual food festival is an opportunity for folks in the community to sample the wares of area restaurants, grocery stores, and catering companies. According to United Way, more than 1,200 people were in attendance to sample the 25-plus food vendors competing in categories such as "Best Overall Taste," "Best Theme," "Best Entrée," and "Best Beverage."
Founded in August 2013 by longtime Grand Junction, Colo., residents Karin and Ronn Gookin and John Nelson, Gelu Italian Ice made its debut by hitting the local event and festival circuit with a couple of mobile concession carts. Since then, the business has rapidly expanded with plans in 2015 for a storefront location and more colorful carts on the streets.
Gelu Italian Ice offers over 20 flavors of its mouth-watering, silky Italian ice including best-sellers: Lemon Lovers, Piña Colada, Mango Madness, Very Cherry, Blue Bomb, Black Raspberry and Palisade Peach.
Developed from an old family recipe, Gelu Italian Ice is the perfect mixture of fresh fruit, water and sugar blended into a smooth, refreshing dessert. Gelu is dairy-free, gluten-free and fat-free.
Gelu will be at Herberger's Community Days event Feb. 28 at Mesa Mall, handing out small, free sample as a fundraiser. They will also be at the Horizon Sunrise Rotary's 7th annual A La Mode fundraising event March 12 once again competing for more dessert accolades.
For more information, visit http://www.geluice.com or check them out on Facebook and "Like" the page so you can stay in the loop on upcoming events. Also find Gelu on Twitter.
###