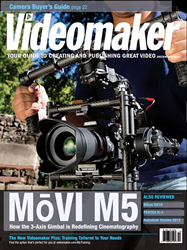 Woodinville, WA (PRWEB) February 13, 2015
The Freefly MōVI was developed to enable filmmakers of all kinds, from local professionals to big-budget movie productions, to expand the boundaries of creativity - by moving the camera in natural ways without losing image quality and stability.
Independent filmmaker Steve Chollet Sun reviewed the MōVI M5 for Videomaker and was surprised by how quickly the system could be set up and its overall ease of use. "The MōVI M5's quick releases and carbon rods make balancing incredibly fast and easy. We were up and running with a Canon EOS 5D Mark III in less than five minutes." Sun filmed with the MōVI M5 on two shoots in Northern California to test the system and completed his review in December of last year, asserting, "The MōVI M5 aims to liberate your camera to achieve shots once thought impossible."
The Freefly MōVI M5 is a 3-axis camera stabilizer, and the foundation for Freefly's camera movement system. The M5 features state-of-the-art hardware, software and cutting-edge motion and stabilization features and is designed to hold a camera package of up to 5 pounds (2.27 kg). Freefly currently offers the MōVI M5 Essentials Bundle, which includes the M5, with a Spektrum DX7s controller, docking stand, batteries and battery charger along with the Pelican case at the regular price of the M5 alone.
Videomaker is the #1 national consumer magazine for video enthusiasts, with a circulation of over 102,000 per month. Learn more at http://www.videomaker.com.
For more information on Freefly Systems and the MōVI M5, visit http://www.freeflysystems.com.