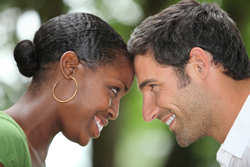 New York, New York (PRWEB) February 13, 2015
Many clinicians focus on the stories couples tell to identify areas of conflict. The PACT Institute's psychobiological approach to couple therapy turns that model on its head, focusing instead on implicit and nonverbal communications to help couples find success, security and stability in their relationships.
The PACT Institute will teach a three-day portion of the Level I couple therapist training session Friday through Sunday, Feb. 13-15, for therapists, counselors and licensed professionals in Westchester County.
PACT (Psychobiological Approach to Couple Therapy) focuses on evoking experience for couples through social cues, movement exercises, conflict enactments, and other psychodramatic techniques. Working with these nonverbal forms of communication help partners understand how attachment injuries from their collective past may be causing relationship challenges in the present tense.
"It's okay for partners to make mistakes and take things personally; that's how we learn. Rather than shying away from conflict, we lean into it. PACT teaches couples how to fight in a way so that nobody loses," said The PACT Institute's founder, Stan Tatkin, PsyD, MFT, who developed the approach based on more than 30 years of research across three key areas: developmental neurobiology, arousal regulation and attachment theory.
Westchester's PACT Level I training session at the Radisson Hotel at 1 Radisson Plaza in New Rochelle will take relationship experts through the PACT's guiding principles, stances and approaches with tools, exercises and interventions to help couples learn how to navigate conflict. The PACT Institute has trained more than 1,000 therapists and counselors from all over the world in the PACT methodology, with beginner's Level I sessions and advanced Level II sessions.
"We start by creating an atmosphere of support and establishing a sense of security for couples as external regulators, and guide them through the process of becoming more attuned to one another's implicit cues," explained Tatkin. "We walk therapists through exercises that they can use to help their couples practice moment-to-moment awareness of each other's faces, voices, bodies, and so forth. Eventually, the therapist becomes more of a coach who can quickly intervene and guide partners through uncomfortable situations."
With the PACT approach to couple therapy, partners eventually learn to regulate various internal bodily, emotional and mental states in real time, separately and together. Couples undergoing therapy through the PACT model begin to recognize when they are reacting automatically and from where those reactions originated. This knowledge helps them change behaviors toward one another to serve as a primary ally and go-to person, rather than as an adversary.
For more information on The PACT Institute, please visit thepactinstitute.com. The next Level I PACT workshop will take place Friday through Sunday, Feb. 20-22, at the Best Western Plus Boulder Inn in Boulder, Colorado. See the full list of events and registration information here.
Tatkin will also be a keynote speaker at the third annual Compassion and Wisdom Conference Thursday through Saturday, Feb. 26-28, in San Diego, CA. Visit the FACES Conference site for more information on the conference and on Tatkin's session, Journey to the Self via the Other: The Power of Primary Attachment Relationships."
About the PACT Institute
PACT (Psychobiological Approach to Couple Therapy) is a fusion of developmental neuroscience, attachment theory and arousal regulation. PACT, which was founded by Stan Tatkin, PsyD, MFT, provides a cutting edge, highly effective approach to couple therapy that is quickly gaining a reputation for treating even the most challenging relationships. PACT strives to positively influence the growth of secure-functioning relationships globally and to reinvigorate the couple therapy profession with a multilevel approach to therapy, which is enjoyable for therapists to learn and fun to practice.
Tatkin is an assistant clinical professor at the UCLA David Geffen School of Medicine and has a private practice in Calabasas, CA. He and his wife Tracey Boldemann-Tatkin founded the PACT Institute together – through which they lead therapist training programs in major cities across the United States and around the world. Tatkin has written several well received books on the topic of couples therapy including Your Brain on Love, Love and War in Intimate Relationships and Wired for Love: How Understanding Your Partner's Brain and Attachment Style Can Help Defuse Conflict and Build a Secure Relationship.
# # #