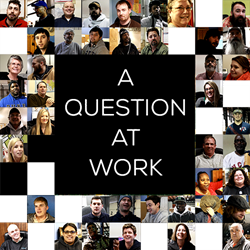 Watch an entire company candidly wrestle with the mysteries of love on Valentine's Day.
Greenville, North Carolina (PRWEB) February 14, 2015
Last Valentine's Day, DFOhome.com asked each of its employees about love. The company asked this question as they begin offering new porch furniture from Pawleys Island, which comes with a lifetime warranty.
Their responses form the basis of a film short exploring the candid responses of unassuming people as they wrestle with love on the most notoriously lovely day of the year.
Hear from the people who make products built to last a lifetime -- as they explain, as best they know, what makes love last a lifetime. From brand-new employees to veteran craftspeople and sales staff, you'll find a variety of perspectives, thoughtful and hilarious, shy and outgoing, wrestling with a question they've likely never been asked before.
"This was an emotional experience to film," said the interviewer, Mac Clark. "We work together every day to build things people enjoy, but it's rare that we all share such an unguarded, emotional moment all at once. Asking the question, again and again... it took a lot from me emotionally, as I'm sure it did each interviewee."
The short video features a variety of skilled craftspeople, sales staff, and other employees responsible for bringing Pawleys Island Furniture to patio for Spring 2015. With a wide selection of dining furniture, Adirondack chairs, and more, the poly lumber furniture promises a lifetime of comfort on any porch, patio, or backyard.
Inspired by the classic natural beauty and architecture of Pawleys Island, South Carolina and the Carolina lowcountry, the furniture blends classic styles with state of the art DuraWood poly lumber and USA-made craftsmanship.
The high-quality DuraWood lumber is designed never to crack, rot, or mildew. Available in a multitude of color options, it is UV-protected to prevent fading in sunlight. For a permanent, quality outdoor furniture, Pawleys Island Porch Furniture promises to be an outstanding choice.
Learn more at pawleysislandhammocks.com and dfohome.com.