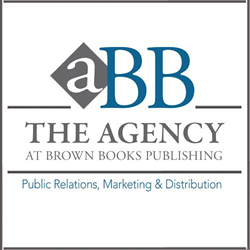 I consider ABB an incubator for the ideas that'll shape the industry's next chapter.
Dallas, TX (PRWEB) February 16, 2015
Milli Brown invented relationship publishing more than 20 years ago with the launch of Brown Books Publishing Group (BBPG), and on Feb. 2, she introduced a new milestone in her influential legacy, The Agency at Brown Books (ABB). Designing a one-of-a-kind, customizable lifeline for dynamic distribution and public relations, the founder of BBPG and ABB is giving authors a better way to shape and share their success story.
"I think like a quintessential entrepreneur; if you find a need, you fill it! And entrepreneurial authors have desperately needed publishing partner capable of streamlining and supporting a wide range of verticals," says Brown. "With ABB, they finally have a single, end-to-end resource for every stage of development and growth, from editing and distribution through PR, digital management, and beyond. We've made fully integrated cross-promotion a reality for their books, brands, and businesses."
Revealing ABB's dynamic platform for leveraging current trends, Brown explains, "Designed to be responsive, instead of reactive to publishing's incessant evolution, ABB's concept is intentionally malleable, and I consider ABB an incubator for the ideas that'll shape the industry's next chapter. As so-called 'indie' authors gain market share – they're expected to own over 50 percent of eBook sales in the next five years – our customizable approach will be all but mandatory to thrive in such a crowded marketplace. In addition, increasingly intuitive technology has made authenticity the key motivator among consumers and readers, and a unique brand identity is no longer enough to stand out, much less succeed. Your messaging must be seamlessly succinct, accessible, and synergized across all channels. Since those exacting yet mercurial standards require dynamically different strategies for each client, we're ideally positioned to create and facilitate solutions that establish an author's individuality, and unlike traditional agencies, we understand the inner workings of publishing."
Through ABB, Brown is also establishing a new standard for client engagement, opening the agency to both BBPG affiliated and non-affiliated authors. "Pioneering a new convergence of PR and distribution is definitively risky, but engineering strategies for clients without the familiarity that comes from developing their manuscripts – that's scary! But it's also absolutely necessary, because writers are still last in line among the many people benefiting from the success of their books and brand," notes Brown. "We want to push publishing into more author friendly territory, and by extending our role as the proverbial 'good guys' in the game, we're creating better opportunities for those with exceptional stories to share."
Underscoring the importance of symbiotic PR and distribution for contemporary authors, she states, "Books are basically the strongest branding tools available to entrepreneurs. Think about it - people are paying you for books to learn about you. It's an ingenious form of cross-promotion, and our bespoke, incorporated services are a lifeline for optimization."
Brown elaborated on the integral connection between ABB and BBPG, adding, "ABB is simply the acceleration of BBPG's ongoing mission to create opportunities that help talented authors excel to the next level," concludes Brown. "During our twentieth anniversary celebration last year, the one question I asked – and continue to ask – our clients is 'How did their book impact their journey and benefit their life?' My inquiry reflects the ethos that's always set BBPG apart from our competitors – we make authors the "VIPs" in the publishing equation."
"Ultimately, I hope ABB leads to discoveries that power progress for our diverse community of writers, readers, and leaders," she concludes.
The Agency at Brown Books is a full-service public relations, marketing, and distribution firm within a publishing house. As a subsidiary of Brown Books Publishing Group, The Agency is backed by 20 years of excellence and experience, and its one-of-a-kind, integrated platform is available to Brown Books' authors, as well as non-affiliated authors, entrepreneurs, CEOs and anyone seeking smarter strategies for building their business.
To learn more about The Agency at Brown Books, visit http://www.TheAgencyAtBB.com.
Like us on Facebook at Facebook.com/TheAgencyatBrownBooks or follow us on Twitter @TheAgencyBB
For media inquiries, contact Vicki Morgan or Cathy Williams at 972-248-9500