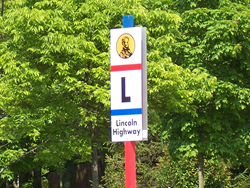 The Lincoln Highway was America's first national memorial to President Lincoln. Yet, Lincoln has other compelling ties to Franklin County.
(PRWEB) February 12, 2015
On the 206th anniversary of Abraham Lincoln's birth, the Franklin County Visitors Bureau recognizes his importance in the formative years of Franklin County.
The most obvious tribute to sixteenth President Abraham Lincoln is the Lincoln Highway, which traverses nearly thirty-five miles of Franklin County. The Lincoln Highway was America's first national memorial to President Lincoln. Yet, Lincoln has other compelling ties to Franklin County.
The uncontainable destiny of America's civil war has its roots in Franklin County with the Raid on Harper's Ferry. Chambersburg, the county seat of Franklin County, was John Brown's northern headquarters as he planned his attack on the federal arsenal during the summer of 1859. Brown, however, was not the lone connection to abolition and the Underground Railroad. Noted historian Charles Blockson cited Franklin County as a "hazardous area of 100 miles which contained the most secretive, tangled lines of the Underground Railroad."
With Brown's Raid, the issue of slavery stood front and center, impacting the presidential campaign of 1860. Abraham Lincoln's election ties directly to Franklin County where Alexander McClure, a Chambersburg attorney and editor of the Franklin Repository newspaper was a well-known political figure. A.K. McClure helped swing the state away from Pennsylvanian Simon Cameron and William Seward to Abraham Lincoln.
With Lincoln's election, southern succession ensued. President Lincoln was willing to use force to defend Federal law and the Union against secession. After the battle at Fort Sumter, where Confederate soldiers forced the fort to surrender, Lincoln called on the states for 75,000 volunteers, starting the Civil War. Franklin County men rallied to the cause, and by the end of the war, more than 5,000 Franklin County men served in twenty-five Union units.
War made an indelible impact on Franklin County, especially Chambersburg, which was a Union town in 1861. Chambersburg suffered two years later with the invasion of Pennsylvania and encampment of General Lee and over 65,000 Confederate soldiers. This was the beginning of the Gettysburg Campaign and Chambersburg became a military staging ground as wounded troops were transported by Cumberland Valley Railroad cars to Chambersburg for care in makeshift hospitals. The conflict escalated to the burning and ransacking of Chambersburg on July 30, 1864, when General John McCausland demanded $100,000 in gold or $500,000 in cash and residents refused to pay.
More than one hundred years after Lincoln's assassination on April 14, 1865, he is remembered for his want for peace in the United States and equality for all. Lincoln's words of peace and flexibility from his second inaugural address live on as inscribed at the Lincoln Memorial in Washington, D.C.
"With malice toward none; with charity for all; with firmness in the right, as God gives us to see the right, let us strive on to finish the work we are in; to bind up the nation's wounds…"
The Franklin County Visitors Bureau invites all to explore Franklin County PA and enjoy the history, arts, recreation, natural beauty, fresh foods and warm hospitality of communities like Chambersburg, Greencastle, Mercersburg, Shippensburg, and Waynesboro. Franklin County PA is located just north of the Mason Dixon Line and an easy drive to Washington DC, Philadelphia, and Pittsburgh. Discover more….plan your visit at ExploreFranklinCountyPA.com , by contacting 866.646.8060, 717.552.2977 or by paging through the online visitors guide.