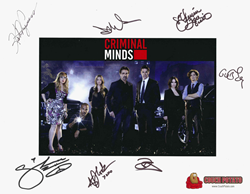 Official Auction Launch for Criminal Minds Collectable Print autographed by the entire Season 10 Cast as well as a Criminal Minds DVD collection encompassing seasons 1 thru 9 to benefit the Gary Sinise Foundation.
Mahwah NJ (PRWEB) February 13, 2015
Criminal Minds Fans once in a Lifetime Auction Launches Today
Autographed Cast Prints plus DVD's of Seasons 1-9 go up for auction today on CouchPotato.com -Proceeds benefit the Gary Sinise Foundation.
Mahwah, NJ February 12, 2015
Couch Potato.com, the online destination where "Movie and Television Addicts get their Flix!" in partnership with the cast of Criminal Minds, has announced the launch of 4 Internet auctions benefitting the Gary Sinese Foundation. Each of the four independent auctions will include a Criminal Minds Collectable Print, autographed by the entire Criminal Minds Season 10 Cast as well as a Criminal Minds DVD collection encompassing seasons 1 thru 9. These one-of-a-kind sets will be a dream come true for diehard Criminal Minds Fans. The 4 auctions will run for 1 week each and close on the following dates; February 19th, March 5th, March 19th and April 2nd.
Criminal Minds, legendary leading actor, Joe Mantegna who stars in the uber popular TV series as special agent David Rossi, has been an advocate of Veterans and their families for most of his career. Mr. Mantegna chose to partner with Couch Potato.com due to their mutual interest in supporting our courageous wounded Veterans, who have sacrificed so much for America. As Mr. Mantegna explains "I'm thrilled that proceeds from the Couch Potato auction of our Criminal Minds photos and DVD's will benefit the Gary Sinise Foundation, an organization I'm proud to be a part of that does such great work supporting our wounded veterans."
Acting great, Gary Sinise began the Gary Sinise Foundation in 2011. The organization is dedicated to supporting the defenders, veterans, first responders, their families and those in need.
Couch Potato.com is the online destination for the very best in Television & Movie DVD's. Whether you are a collector looking for a TV series from years ago or someone just looking for a great DVD for Movie Night, Couch Potato.com has got it for you at the best price and free shipping!
Visit the Criminal Minds/Couch Potato Auction at:
http://www.couchpotato.com/auction
For more information in regards to this release kindly contact Steven Jay at: [email protected]
http://www.couchpotato.com/auction
https://www.facebook.com/bestsellingdvds
https://twitter.com/CouchPotatoDVDs
https://www.youtube.com/channel/UCGf5ZfBk2EFO6R-8zg3da_g