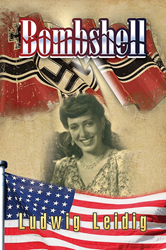 "Love unrequited, coffee decaffeinated, and Hitler goes to hell while good Germans germinate and emigrate in a well told, loving memoir." – Peter Goers, presenter of "Evenings" show, ABC Adelaide
(PRWEB) February 16, 2015
According to the author, global tycoon Ludwig Roselius was a very successful industrialist known throughout the business world as The Lion. He was also the inventor of decaffeinated coffee. When Adolf Hitler came to him, asking for money, he sent him away empty-handed, both in 1922 and 1930. The snub was not forgotten. Once Hitler came into power, he launched verbal attacks against Dr. Roselius, followed later by a death sentence. Roselius fought Hitler every step of the way in his business dealings and, according to Bremen historian Dieter Pliegensdorfer, was in discussions with Gördeler in 1942 to try and remove Hitler from power. This dramatic psychological thriller covers the dark period of the Third Reich, from 1933 to 1945.
In the novel, Barbara Goette is a 26-year-old woman and has just completed university when she goes to works for Dr. Roselius at his business conglomerate. She becomes his closest collaborator. When Hitler condemns her boss to death, Barbara pleads directly with Hitler for his life. Dr. Roselius dies in 1943, mysteriously strangled to death after arguing with Hitler about forced labour being used at the Focke-Wulf plants. Barbara barely survives the war. She marries English lecturer Dr. J.P. Leidig in 1945, and the family emigrates to Australia in 1950. Bombshell is her story.
"Love unrequited, coffee decaffeinated, and Hitler goes to hell while good Germans germinate and emigrate in a well told, loving memoir." – Peter Goers, presenter of "Evenings" show, ABC Adelaide
Watch the video on the attached PDF or at: http://www.youtube.com/watch?v=2q5tQLoVrXs
About the Author: Born in Germany, Ludwig Leidig is now retired and lives in Adelaide, Australia.
BOMBSHELL (Kindle ISBN: 978-1-62857-148-6, ePub ISBN: 978-1-62857-149-3) is available for $9.99 at http://epubco.com/shop/products/bombshell-by-ludwig-leidig/ or through Amazon, Barnes & Noble and in multi-formats for other e-Readers through numerous vendors online.
The soft cover version (ISBN: 978-1-62516-346-2, $19.50) can also be ordered through the publisher's website: http://sbpra.com/LudwigLeidig or at Amazon and Barnes & Noble.
WHOLESALERS: This book is distributed by Ingram Books and other wholesale distributors. Contact your representative with the ISBN for purchase. Wholesale purchase for retailers, universities, libraries, and other organizations is also available through the publisher; please email bookorder(at)aeg-online-store(dot)com.