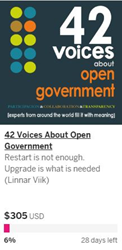 Restart is not enough. Upgrade is what is needed (Linnar Viik)
San Jose, CALIF (PRWEB) February 14, 2015
The 2014 World Press Freedom Index spotlights the negative impact of conflicts on freedom of information and its protagonists. The ranking of some countries has also been affected by a tendency to interpret national security needs in an overly broad and abusive manner to the detriment of the right to inform and be informed. This trend constitutes a growing threat worldwide and is even endangering freedom of information in countries regarded as democracies.
Globally, advancing social justice and human development often relies on local civil society organizations. Yet the right to meet, organize, and drive change through civic action is facing backlash. Since 2012, the International Center for Non-Profit Law has documented more than 50 countries seeking to ban or constrain civil society activity.
The concepts underlying Open Government are still young. They are like a puzzle that we design, solve and improve on the fly. Some states and societies are advancing decisively towards this new paradigm, while others are still functioning under older paradigms. It is therefore necessary to spread the idea of Open Government globally, to collectively evolve the new meaning of democracy. Our longer term goals are quite ambitious: to set the standard for excellence with our eBook, using the 42 standards to generate debate around the evolving definition and discussion about Open Government worldwide.
Our Indiegogo crowdfunding campaign is one of the first of its kind for the OpenGov community. If you can't contribute, please spread the word, and let the media know about this effort to share the message about this new principle of political science, which is based on the participation of the general public, the co-creation of services, and transparency as a fundamental principle of action, with citizens and government administrations working together.
For status updates, please follow the Twitter accounts of @meganesque, @marc_torres_ and @XarxaIP. For more information, please visit: http://www.xarxaip.cat/