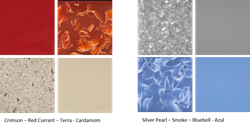 What makes Avonite's International Palette unique is its ability to coordinate solid color neutrals with matching translucent or metallic accents
Florence, KY (PRWEB) February 14, 2015
Avonite® Surfaces, a brand of Aristech Surfaces LLC, is launching its new International Palette of solid surface colors consisting of 35 new Acrylic Solid Surface and Studio Collection® Specialty Blend solid surface colors.
Architects and designers are working more globally than ever, and Avonite's new International Palette meets the increasing need for a truly global range of trend-forward colors and designs. This palette allows designers to make exciting and creative product and color choices no matter where in the world their project may be.
What makes Avonite's International Palette unique is its ability to coordinate solid color neutrals with matching translucent or metallic accents – creating new opportunities for color and light. Designers now have the ability to coordinate various looks in the same space – without giving up the surface benefits that solid surface material brings.
Avonite's new International Palette of solid surface colors features a wider breadth of Acrylic neutrals and earth tones such as Brume and Café au Lait, as well as brilliant translucent Studio colors including Bluebell and Red Currant and metallics like Silver Pearl and Terra to provide beautiful accents for a striking look.