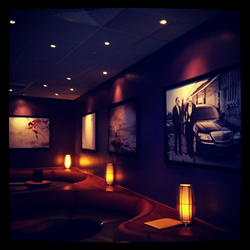 Confirmed Celeb Guests to include: Superbowl Champions, ESPN Analysts, NBA Stars, Music Executives and Fashion Models
New York, NY (PRWEB) February 13, 2015
NBA Champion and former NY Knicks guard, Trent Tucker, will host a Celebrity Bowling event during NBA All-Star Weekend on Saturday, February 14, 2015, at Frames Bowling Lounge, located at 550 Ninth Ave in NYC.
The event will include a VIP meet & greet lounge, a live auction, DJ, cocktails, a delicious array of food and a candy buffet. This benefit will raise money for JDRF, the leading global organization funding Type 1 Diabetes Research.
Red Carpet is from 1:00pm – 2:00pm and bowling will begin at 2:30pm.
Top sponsors will enjoy an exclusive celebrity meet & greet prior to the event and have the opportunity to bowl with Trent Tucker and other sports stars in attendance. Tickets range from $50 for children to $375 for VIP Spectators.
Confirmed Celebrity guests will include, ESPN TV Analyst Adam Schefter, NBA Stars Charles Oakley, John Starks, BJ Armstrong, Byron Scott, Kris Humphries, Dale Davis, Johnny Newman and Anthony Avent, Super Bowl Champions Howard Cross and OJ Anderson, Pittsburgh Steelers Super Bowl Champion & NY Jets Willie Colon, WBU Boxing Champion Rock Blackwell, WCBS Anchor Maurice DuBois, Music Executive Kevin Liles, Streetball Legend & Entertainer Jack Ryan, Designer Stevie Boi, TV Host Clare Galterio, Grammy Nominated Singer & Songwriter/Actress Antonique Smith, Miss Illinois 2014 Marisa Buchheit, Internationally Acclaimed Tenor James Valenti, Latin Pop Music Group Viva Mas and Fashion Models/Actresses Karrueche, Luz Pavon and Aliana Lohan.
"I'm looking forward to coming to NY and hosting my All-Star Celebrity Bowling Event which will benefit JDRF," said Trent Tucker. "With diabetes on the rise affecting both children and adults, more people inflicted with the disease are facing life threatening challenges. With the help of all the generous celebrities, supporters and participants, we are hoping to Strike Out Type One."
Even with so many NBA All-Star events in NYC this weekend, this one should absolutely NOT be missed.
ABOUT FRAMES BOWLING LOUNGE
Frames NYC is a Bowling Lounge located on 9th Avenue at 40th Street in New York. It features a gracious lounge, Handcrafted Seasonal Menus designed by an onsite Executive Chef, 2 Bars featuring unique and inventive Cocktails, a Billiards room and 28 sleek bowling lanes, including 2 with VIP access. This NYC Bowling Lounge has a modern, luxurious vibe, and is considered the ultimate spot in nightlife and bowling entertainment. To find out more about Frames Bowling Lounge, visit http://www.framesnyc.com.