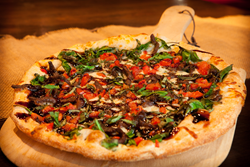 "Uncle Maddio's continues to dominate the fast-casual pizza landscape in the South," said Matt Andrew, CEO of Uncle Maddio's.
Atlanta, GA (PRWEB) February 13, 2015
Uncle Maddio's Pizza Joint opens its first Charleston, S.C. area restaurant in Mount Pleasant, S.C. The fast-casual build-your-own pizza restaurant is located at 1795 North Highway 17 in the Town Center Plaza. In celebration of the new restaurant, Uncle Maddio's will host its Grand Opening celebration on Feb. 14 and will serve free 9-inch, any three topping, fully customizable pizzas to all customers in line from 11 a.m. to 2 p.m.
Uncle Maddio's offers premium ingredients and more customization than any other fast-casual pizza restaurant. Guests can choose one of three crusts, including a gluten-free option, and have the choice of 48 toppings including six sauces, 27 vegetables and 15 meats. For those with dietary restrictions, Uncle Maddio's serves up a huge selection of healthful options like whole wheat and gluten free crusts, hormone-free chicken, fresh local vegetables, Daiya vegan cheese and organic greens. Create-your-own signature salads and toasted panini sandwiches round out the Italian-style menu. The restaurant also offers a selection of craft beers and wine.
The Mount Pleasant, S.C., restaurant is owned and operated by franchisee David Moulton and his father Bruce Moulton. David Moulton has more than 10 years of experience in the restaurant industry and managed Domino's Pizza locations in GA and SC. The Moulton's have signed on to develop three Uncle Maddio's locations, all in the Charleston, S.C., area. A second unit will be opening in late summer in North Charleston.
"After many years operating other restaurants, it's a dream come true to finally have my own pizza franchise," said David Moulton, Uncle Maddio's franchisee. "I love the Uncle Maddio's build-your-own pizza concept, and I think it is exactly the type of restaurant the community will enjoy with their friends, families and co-workers."
The Mount Pleasant, S.C., opening will be the first of three new South Carolina restaurant openings for the fast-casual pizza chain. The brand already has one restaurant in Columbia, S.C.
"Uncle Maddio's continues to dominate the fast-casual pizza landscape in the South," said Matt Andrew, CEO of Uncle Maddio's. "We have big plans for 2015 and will continue to bring our great-tasting, fresh, and customizable pizza to restaurant guests across the country this year."
To fuel Uncle Maddio's expansion in the area, the company is actively seeking qualified franchisees. Local entrepreneurs are invited to contact the brand's franchise development team at http://www.unclemaddios.com/franchise-info/ to learn more about growth opportunities.
Since launching its aggressive growth plan in 2008, Uncle Maddio's has signed franchise agreements with 50 different entities in 18 states. Many of Uncle Maddio's franchisees have previous multi-unit experience with Jimmy John's, Firehouse Subs, Dairy Queen, McDonalds, Burger King, Krystal, Papa John's, Domino's, Golden Corral and Five Guys.
For more information on Uncle Maddio's Pizza Joint, visit http://www.unclemaddios.com.
About Uncle Maddio's Pizza Joint. With more than 1,000 Pizza Makers making more than 2,000,000 gourmet pizzas a year, Uncle Maddio's Pizza Joint is category leader of the create-your-own premium fast casual pizza restaurants. Operating 30 locations in 13 states, Uncle Maddio's opened 10 restaurants in 2014, earning a 300 percent growth rate over the past three years, with more than 225 units in development. Uncle Maddio's pizzas are customizable, made-to-order, and served up fast for under $7. With four pizza sizes; three types of crusts, including gluten-free; six sauces and 48 fresh toppings, many vegan, organic, and hormone-free, Uncle Maddio's has the freshest and largest menu in the category. The restaurant's unique fast bake ovens offer the most throughputs in the industry and can produce 200 pizzas per hour. Uncle Maddio's also serves toasted paninis and gourmet salads – all prepared with locally sourced ingredients (when available) and salad dressings and 30 other menu items that are made on-site daily. Uncle Maddio's 'Served with Love' philosophy and restaurant is for everyone –children and families, college students, the young and the young at heart – and serves the guests and communities it is a part of. Based in Atlanta, the Uncle Maddio's management team has 50 years combined experienced in the fast casual category. Markets are available nationwide for franchise partner development including Florida, Ohio, and Massachusetts. http://www.unclemaddios.com
Photos: Click Here: https://www.dropbox.com/sh/k5r28o3f5vbe5yo/AACVAqHH8mHDv151BLZCvAIka?n=49693818
Video: https://www.youtube.com/watch?v=UpZ-W8kCKHs
B-Roll: https://www.youtube.com/watch?v=NUxsOK14Ewg&feature=youtu.be
Media Contact: Ellen Hartman (678) 399-3335,