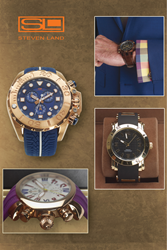 I hope everyone is ready for the real magic we've created with RKI Corp
New York, NY (PRWEB) February 14, 2015
When Brooklyn, NY based menswear designer Steven Land started his company almost 25 years ago, it began as a leading-edge line of men's ties and pocket squares that revitalized men's fashion. The imaginative combinations of dyes and patterns have become a trademark of Steven Land that now includes men's suits, shirts, cufflinks, shoes --- and even socks. The hands of time have not slowed down the ever-turning cogs that drive the creative mind of Steven Land. The tempo has been changed and Steven Land has given time a bold new face that rest on the wrist of a man whose reach is beyond conventional fashion and into the era of Steven Land Watches by RKI Corp showing at the February 2015 MAGIC Las Vegas Trade Show for the 2015 Fall season.
Now a man can complement the hues and configurations of his Steven Land ensemble with a watch that finishes the look. The dull black and brown pallets normally found in conservative men's timepieces have been replaced with lively colors synchronized with elegant craftsmanship. The watches are fully guaranteed to maintain the high quality and lifespan of the product beyond its look.
Steven Land, the namesake behind the men's design house says, "We will officially show the new line of watches at the 2015 MAGIC Las Vegas Trade Show this month alongside our crisp new men's designs and I hope everyone is ready for the real magic we've created with RKI Corp."
RKI Corp, the manufacturer of Steven Land Watches has been marketing Swiss high-end watch brands such as, Rolex, Cartier, Patek, Phillip and many more on four continents since 1990. Now through this new partnership is designing exclusively for Steven Land.
A quarter of a century ago Steven Land was an upstart haberdashery that guided men's fashion into a new millennia. To use the word haberdasher to describe the company today would narrow its scope. Keep watch on what Steven Land does next.
For additional information on the Steven Land Watch Collection please contact Richard Kahn via email at rk737(at)aol(dot)com and for more information on Steven Land please visit http://www.stevenland.com.