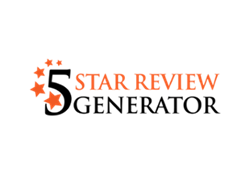 Port Barrington, IL (PRWEB) February 14, 2015
"The driving force behind 5SRG© is the high value given by search engines and prospective dental patients to Google Dentist Reviews given by fellow dental patients," says Daniel A. Bobrow, ADM president and co-inventor, along with ADM's Director of Web Services Stephen Ball, of 5SRG©.
5SRG© makes the process of securing top quality dentist reviews automatic and immediate.
The Service is guaranteed to generate only top quality, positive dental ratings.
5SRG© draws upon both leading edge digital technology and interpersonal communications as developed for The Art of First Impressions (TAFI©) telephone skills coaching curriculum, and is a key cornerstone of an effective dentlst reputation management system.
Securing a sufficient number of high quality Google Reviews is among the most important factors affecting a local website's ranking on Google*. Equally important is the rate at which these reviews are posted. Bobrow shares: "We've learned from, sometimes, painful, experience, that Google can get too much of a good thing. Anything that breaks from a pattern can upset the Google algorithm, with adverse consequences for a website's ranking. Say your Google+ page has not received any reviews for six months. When, all of a sudden, it gets 5 in a single day, that raises Google's suspicion that all is not 'kosher' with your optimization strategy. That's why 5SRG© is sensitive to your page's history, which we take into careful consideration in crafting your review placement strategy," concludes Bobrow.
It is important to distinguish between Google and so called third party reviews, that are still in use by some dental practices. While these can enhance the website visitor experience, they are ineffective at improving a website's Google ranking. In other words, if someone is not searching for the dental website by name, third party reviews will do nothing to help them find it.
Another benefit of the 5SRG© is its ability to 'immunize' the practice against adverse reviews. "By early identification of, and communication with, problem patients, we essentially take your patient's pulse, in terms of their satisfaction with your practice, before asking them to post a review to Google. We also advise on other ways to prevent adverse reviews, as well as how to address those who have already posted them," says Bobrow.
A Study by BrightLocal.com revealed the following:

71% of consumers read online reviews
55% of consumers trust a local company more after reading positive online reviews
50% of consumers are more likely to utilize a local company after having read positive reviews
67% of consumers trust online reviews as much as personal recommendations
The 5SRG© Service includes an automated and customized patient communication platform; instant identification of patients who submit a 5 Star Review; and development and management of your online review site.
To learn more about 5SRG©, visit: http://www.aimdentalmarketing.com/store/5-star-review-generator.
-----------------------------------
AIM Dental Marketing has worked exclusively with private dental practices in North America since 1989 in helping them grow through an image-conscious and cost-effective dental marketing technique.
Interested parties may reach ADM at 1-800-723-6523, Info(at)AIMDentalMarketing(dot)com, and http://www.AIMDentalMarketing.com.
*Bright Local US Results: Local Consumer Review Survey (published Dec. 6, 2010)