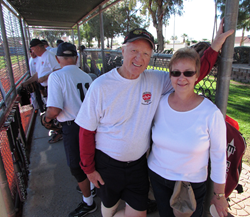 People used to tell dad that they wanted to play in this tournament. He would say 'No you don't. This is a team you don't want to qualify for.'
SURPRISE, ARIZ. (PRWEB) February 13, 2015
The distinctive "ping" of an aluminum bat striking a ball. Lively chatter laced with good-natured taunts. The rich baritone of the P.A. announcer. These were sounds that filled the air at the Feb. 7, Bill Bromley Memorial Cardiac Kids Softball Tournament, played under a cloudless azure sky at Liberty Buick Field in Sun City West.
The 50 or so players, all in their 60s or older, ribbed each other non-stop and clowned around on the field but there was a serious side to their antics. The players all share a history of heart problems and this was their ninth annual tournament to raise funds for cardiac research, in this case cardiac stem cell research at the Banner Sun Health Research Institute (BSHRI) in Sun City.
This year's event raised more than $2,200 to support Mohamed Gaballa, Ph.D., and his team who are investigating the potential of gene and adult stem cell therapy to treat heart disease.
The funds were donated through the Sun Health Foundation, which provides philanthropic support to BSHRI. Tournament officials adopted Dr. Gaballa's research project in 2011. Since then they've raised more than $8,000 for the project.
Despite the players' health issues, the atmosphere at the games was light-hearted. The announcer proclaimed each player's name as they came to the plate. He also rattled off their "personal stats," in terms of heart ailments. For example: John Doe - one heart attack; open heart surgery; four stents.
The tournament is named in honor of Bill Bromley, a softball-crazed retiree who envisioned a charity tournament made up entirely of players who, like him, had suffered and recovered from a cardiac event. Bromley had open heart surgery at age 54 and had some stents put in later in his life.
"Dad loved softball," Bromley's daughter Sue Bromley, said. "Every time he had a cardiac event, he thought he was done (with softball) but then his cardiologist would say 'No. Get back out there. It's good for you,' so he did."
Sue Bromley remembers her father surveying other players to see if they had had heart problems. He kept the names of those who met the criteria and found there were more than enough to put together a cardiac kids softball tournament. He was already very involved in the Sun Cities Senior Softball League as a player and league official, so it wasn't too hard to scare up players for the first tournament in 2006.
The tournament became a family affair with Bill, his wife Pat and Sue putting in long hours to organize and publicize the event, as well as recruit volunteers and solicit donations. Aside from the games, there were hitting and throwing contests, raffles, auctions and a barbecue. "Dad's big thing was that, 'It's got to be fun,'" Sue Bromley said.
Ironically, Bill Bromley suffered a heart attack after a softball game in 2008 and died a short time later. The league renamed the tournament in his honor in 2009, the same year he was named to the Sun Cities Senior Softball League Hall of Fame.
Retired pastor and softball regular Bob Renberg was one of the original tournament organizers and he has played in all nine tournaments. He was good friends with Bill Bromley and presided at his funeral. "Bill was a precious man," Renberg said. "He would love to see this."
Sue Bromley is also pleased that the tournament is still going strong. "People used to tell dad that they wanted to play in this tournament. He would say 'No you don't. This is a team you don't want to qualify for.'"
About Sun Health
A long-standing community partner championing healthy living, nonprofit Sun Health is a community-based health care organization providing pathways to population health through philanthropy, senior living, community programs and superior health care. Learn more at http://www.SunHealth.org.
###