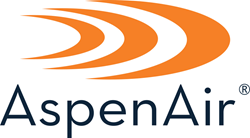 "We are proud to assist managers of hotels, hospitals, and other commercial buildings to mitigate the risk of Legionnaire's disease in a way that reduces their environmental footprint and improves their bottom line," said Mike Gunion, CEO of AspenAir
Rohnert Park, California (PRWEB) February 17, 2015
AspenAir, one of North America's leading providers of high performance air filtration systems, announced that independent lab testing has found its products to be effective at killing Legionella bacteria. Each year, between 8,000 and 18,000 people in the U.S. are hospitalized with Legionnaires' disease, according to the Center for Disease Control on February 5, 2013. Now property managers will have a new tool in their efforts to prevent this life-threatening form of pneumonia.
Legionnaire's disease is caused by the Legionella pneumophila bacteria, which grows in water systems, including those of cooling towers in commercial buildings. Cooling towers are potential breeding grounds because the water within them is heated via heat exchange, which is an ideal environment for this type of heat-loving bacteria. Research published in the Journal of Infectious Diseases in January 2006 provides evidence that Legionella can travel at least 6 km from its source by airborne spread. When individuals inhale droplets containing the bacteria, they can acquire the disease.
AspenAir's filtration systems were tested on January 7, 2015 by LMS Technologies, Inc., (LMS) an independent air filter and media testing company established in 1996 in Bloomington, Minnesota. LMS utilized Legionella tucsonensis, a bacteria from the Legionella genus that serves as a surrogate for Legionella pneumophila for testing purposes. The test showed a 95.5% reduction in Legionella tucsonensis after 60 minutes.
"Preventing Legionnaire's disease is a serious challenge for many property managers" said Mike Gunion, CEO of AspenAir, "We are proud to assist managers of hotels, hospitals, and other commercial buildings to mitigate this risk in a way that also reduces their environmental footprint and improves their bottom line."
About AspenAir
AspenAir manufactures a patented air filtration system that reduces HVAC energy consumption and maintenance costs, diverts landfill waste, and improves indoor air quality. The firm's technology creates a 24kV polarizing field in a durable non-metallic frame, providing unrivaled performance. Additional details are available at: http://www.aspenairinside.com