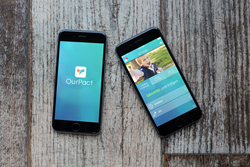 San Diego, CA (PRWEB) February 16, 2015
The brainchild of ParentsWare, a leading mobile solutions company, OurPact aims to empower parents as they guide their children through the balanced use of technology. Intended for families who want to prevent the negative side effects of ungoverned screen time, this is an essential app that acknowledges the key role that technology plays in the lives of our future generation and aims to involve parents in their children's approach to mobile device use.
Despite recommendations by the American Academy of Pediatrics (AAP) to limit screen time to 2 hours per day for all children, the average child is still exposed to over 7.8 hours of screen time a day, outside of school alone. This overexposure has been directly linked to a variety of negative health outcomes, including behavioral problems, prolonged cognitive and language development, and reduced success in academic pursuits. As technology continues to evolve, many parents report uncertainty in navigating these new landscapes, and a sense of helplessness when it comes to controlling the amount of screen time their children are exposed to.
That is where OurPact comes in. "This application was born out of a personal need," explains ParentsWare CEO Ben Badiee. "I saw that managing my children's screen time was becoming more and more of an issue, and knew that I wasn't the only parent struggling in this area. For two years, we explored the parental control market and experimented with the available solutions and found that a reliable, parent-friendly option simply did not exist."
Some significant drawbacks to other parental control apps on the market are that they prove difficult to install, the majority don't block apps, and they are predominantly browser-based, which means they can only block children's Internet use – accounting for solely 15% of device engagement. OurPact eliminates these issues by using one simple platform to manage both Internet and app use, orienting to even the least tech-savvy of parents.
Imagine a tool that would allow you to schedule Internet and app use according to your child's daily routine, set a limit on the number of hours your child can interact with their devices per day, and block Internet and apps at a touch. ParentsWare has disclosed there is much more to come. With millions of dollars invested in research, industry feedback, and development, future releases will not fail to impress with their enhanced functionality and extended feature sets.
http://ourpact.com/download-2 from the app store for free today, or learn more at OurPact.com.
ParentsWare is dedicated to providing parents with the crucial tools they need to gain influence over their children's Internet experience.
If you would like further information on OurPact, or would like to schedule an interview with our press team, please contact: press(at)ourpact(dot)com.