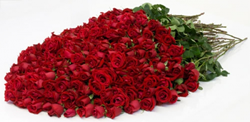 Most people can't tell the difference between the lovely, and 30% cheaper, long stem red rose from Mexico and premium grade roses from Columbia and Ecuador
Los Angeles, California (PRWEB) February 12, 2015
California Flower Mall opens 24/7 Friday the 13th with farm fresh Valentine roses for last minute bargain bloom hunters, up to 70% off of retail prices. Last minute flower shoppers get lucky this year with Mexico's cheaper long stem Valentine's rose rivaling the quality of roses from Ecuador and Columbia.
"Most people can't tell the difference between the lovely, and 30% cheaper, long stem red rose from Mexico and premium grade roses from Columbia and Ecuador," says Mark Chatoff, Owner and President of California Flower Mall.
"The quality of the long stem red Mexican rose product has improved so much recently that CFM vendors sold out their stock to trade customers this morning -- 48 hours before the holiday--- new shipments from farms in Mexico and South America are expected tonight; in previous years florists wouldn't work with the grade of roses coming from Mexico "Chatoff added.
Sandra Villarruel, Owner of Elegancia Flowers says she is very surprised and pleased with price and quality of red long stem roses from Mexico. "It begins with the farm; how they breed rose varieties, care for them in the growing cycle and ship them."
Fluctuating Valentine's rose prices can be a nail biting experience for small business owners in the cut flower and floral design supply chain.
Some CFM bulk flower wholesalers don't sell Valentine's roses anymore because the economics are so speculative. Jose Macias, Sr., Owner of Macias Wholesale says he doesn't have the stomach to take risks on Valentine's rose orders. "I've had to sell red roses on the last day for prices lower than what I paid for them because my order was based on a price set weeks before. It's too risky to predict."
Red rose prices fluctuate daily in LA's Flower District markets during Valentine's week. "The good news for last minute California Flower Mall shoppers is that prices will go down close to or on Valentine's Day, but, supplies of red roses and flowers often sell out early. Valentine's Day is the second biggest flower holiday of the year in the cut flower trade. It accounts for 25 – 40 percent of CFM vendors business," Chatoff notes.
A simple case of supply and demand affects the price of Valentine's Day roses according to a report by the Society of American Florists:

Valentine's Day inspires the heaviest demand for long-stemmed roses, and several rosebuds must be sacrificed to create a single long-stemmed rose.
After the Christmas season demand for red roses is filled, growers need 50-70 days to produce enough roses for Valentine's Day.
Winter's shorter daylight hours and higher energy costs hamper efforts to grow large rose crops
Inclement weather often requires extreme measures to ensure that flowers are delivered in time
Valentine's Day is the second biggest flower purchasing holiday of the year, following the winter holidays according to the SAF. According to the National Retail Federation's 2015 Valentine's Day spending survey, Americans plan to spend $18.9 billion. 37.8% plan to buy flowers spending a total $2.1 billion, the NRF says.
About California Flower Mall
The California Flower Mall, located at 825 San Pedro Street, is one of the largest DIY wholesale flower marts in the eight block DTLA Flower District trade community -- the largest concentration of wholesale flower markets and flower businesses in the U.S. It is located in the LA Fashion District Business Improvement District.