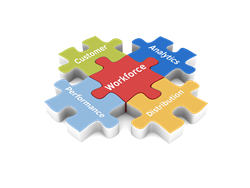 Branch experience is still one of the most important factors for customer satisfaction and loyalty.
San Diego, CA (PRWEB) February 18, 2015
Kiran Analytics – a leader in intelligent branch transformation – announced today that it will host the Industry Innovation lunch at Retail Banking 2015 Conference, the premier event of the retail banking industry to be held in Austin on March 9-11th. Attendees of the Industry Innovation panel discussion will hear insights from banking executives about the five critical pieces of the retail branch transformation.
Each year, American Banker brings together banking executives to address topics like change in retail banking and disruption by non-bank financial institutions. This year's conference will focus on branch transformation, customer experience, digital/mobile banking, and revenue strategies.
Jim DeLapa, CEO of Kiran Analytics said, "We are excited about hosting the branch transformation lunch at Retail Banking 2015". He added "Branch experience is still one of the most important factors for customer satisfaction and loyalty. Every bank has its own strategy for distribution, branch workforce, or technology. Yet, it's important for banking executives to share stories and insights about transforming branches and delivering exceptional customer experience. We look forward to facilitating the discussion and sharing Kiran's insights gained from delivering intelligent branch transformation solutions to over 10,000 branches in the US and UK.
Gene Kirby, Industry Innovation panelist and former Chairman of the Consumer Bankers Association said, "Every bank is different. Every region is different. And, every branch is different. So, one-size-fits-all approaches don't work well for retail banks as they transform their branch networks. I think benchmarking and validation of distribution, technology, and workforce strategies are important for a sustainable branch transformation process. Because things are changing so fast, decisions based on your data and predictive analytics are far more effective than decisions based on gut feel or solely past experience."
In addition to the industry innovation lunch at Retail Banking 2015, Kiran executives and its Retail Banking Advisory Board members will hold executive interaction meetings to discuss their branch transformation insights related to workforce optimization and talent acquisition.
About Kiran Analytics
Kiran Analytics drives intelligent branch transformation for retail banks through the application of predictive analytics, resulting in increased sales and service effectiveness, and reduced operational costs. Kiran's solutions have been deployed in over 10,000 branches; helping forecast branch staff levels accurately, hire better people faster, and plan and schedule resources efficiently. Kiran Analytics is a member of Bank Administration Institute (BAI) and Consumer Bankers Association (CBA).