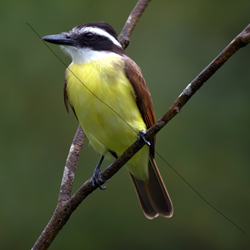 The fact I have a chance to see them when just stepping out the door is amazing.
Manuel Antonio, Costa Rica (PRWEB) February 13, 2015
Tulemar Resorts, located in Manuel Antonio, Costa Rica, recently asked which birds their guests were most excited to see. The resort, which offers bungalows and large privately owned vacation rental properties, is a unique one in that it is home to a copious amount of wildlife due to its secluded jungle location. Guests not only see birds that are unique to Central America, but also three types of monkeys, both types of sloths, reptiles, and even the occasional whale-sighting.
Tulemar's survey resulted in the scarlet macaw, the fiery billed aracari, the chestnut-mandibled toucan, the kiskadee, and the motmot being the guest favorites. It's not surprising that these birds were the most revered, as they are all exotic outside of Central and South America, and all are aesthetically pleasing with their bright colors.
Perhaps one of the most exciting on the list is the scarlet macaw. Efforts have recently been made to construct a scarlet macaw sanctuary nearby, and the results have been apparent in the sightings locals and guests have had since its installation. Longtime Tulemar guest Keith Brown couldn't be more excited about the new residents of Manuel Antonio, saying, "I've been coming to Manuel Antonio and Tulemar for about eight years now, and have only seen a macaw in the Osa Peninsula, 200 kilometers south of Manuel Antonio. The fact I have a chance to see them when just stepping out the door is amazing."
The next on the list is the fiery billed aracari. With its distinct loud call that echoes sharply through the jungle, birdwatchers usually first locate of the sound in the foliage, then they spot the big-beaked black bird, brightly marked in red and yellow feathers. Marty Plank, a recent guest of Tulemar and a wildlife enthusiast, shared his experience of seeing the fiery billed aracari, "It's a wild experience. You hear them first, but when you finally find them, you see those bright yellow eyes already looking right back at you. They are truly gorgeous birds."
The third bird on the guest's list is another species of toucan, the chestnut-mandibled toucan. This particular species has the look of many guest's common perception of a toucan. The bird is mostly black with a luminous yellow plumage and a maroon and yellow beak.
The kiskadee and the motmot round out the list, and for good reason. The last two birds have more than just home in the forests of Tulemar, but actually have had Tulemar rental properties named after them.
The kiskadee is the largest of all tyrant flycatchers. Tyrant flycatchers is the largest family of birds with over 400 different species. Kiskadees are yellow breasted with a white stripe just above the eye, and it has an extremely loud call that sounds similar to its name.
The motmot is another one of the more colorful birds in the Manuel Antonio forests. With a long-tails with a racket-like tip on the end, the motmot has a different look from any other bird in the jungle. Guests find pleasure in seeing the motmot because of its tendency to wag its tail back and forth, which often reveals theirs location. Researchers believe the wagging motion is to let predators know it is ready to escape if need be. Dave Houck, a Tulemar spokesperson, joked about the motmot's tail wagging, saying, "Guests are always asking about the birds that wag their tails. I love telling them that its because they want to let our guests know that they see them passing by."
Of course, these are not the only birds that call the Manuel Antonio area home. The town is one of the most bio-diverse areas in Costa Rica and home to Manuel Antonio National park. Taking in pride in that fact, Houck summed up the town and the resort's passion for its unique birds and wildlife, "This place is amazing, and its people are even more amazing, in that they adamantly defend their wildlife. The fact our guests are able to reap the benefits of that and join us in celebrating our wildlife, whether it be birds or otherwise, is truly a joy."