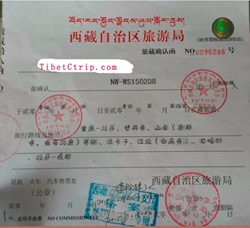 Lhasa, Tibet (PRWEB) February 16, 2015
A Tibet visa, also known as a Tibet travel permit, is required for all foreign visitors in Tibet. Many travelers new to Tibet travel in 2015 have several questions about these documents and what they need to do to ensure that their tour starts off smoothly. Tony Yang of Tibet Ctrip Travel Service-TCTS (http://www.tibetctrip.com) has been operating in Tibet for over 12 years and shares the details via their latest post on YouTube.

Tony clears up confusion about who needs which documents for entering Tibet. He begins with the Tibet group visa, required for travelers coming from Nepal. This functions as a Chinese visa but is only valid for Tibet. Second, the Tibet travel permit itself, this is required no matter how or where travelers enter Tibet.
Tony breaks down the personal information travel groups need to submit and then discusses the logistics for sending to travelers. Those coming from Nepal do not need it in advance of arrival while those coming from Mainland China will be emailed a copy or have the original snail mailed to them.
Lastly, Tony shares a bit about himself and TCTS. He has been operating in Tibet for over 12 years and employs highly knowledgeable native Tibetan guides and drivers. Tony wants visitors to know that Tibet travel is a special experience and understands that the majority of travelers work very hard to make their tour possible; this is why Tony and his team always work to provide authentic experiences with comfortable accommodation for the best price possible.
Although the detail that goes into travel permits can seem intimidating at first, travelers can take comfort in the fact that a licensed travel agency will see them through the process; all travelers need to is submit copies of their visas and passports along with the required personal information. For those who are serious about seeing the world and understanding its people there is no doubt that traveling in Tibet is a worthwhile adventure. With the travel season right around the corner now is the time to start planning a tour!