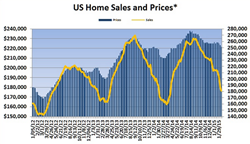 While sales decreased -3.4% this week, year-over-year sales regained strength from 2.7% last week to being up 4% this week
Chicago, IL (PRWEB) February 12, 2015
Lenders like Peoples Home Equity were disappointed to see weekly home sales decline for the 4th consecutive week, however year-over-year did manage to improve.
As shown in DQnews.com's latest "National Home Sales Snapshot" from February 12th, weekly median home sales decreased -3.4% to 180,872 and median home sale prices also declined -0.7% to $221,500.
Last week Peoples Home Equity was doubly disappointed with weekly home sales decreasing -8.4% and weaken to just 2.7% from 4.1% the week prior. While sales decreased -3.4% this week, year-over-year sales regained strength from 2.7% last week to being up 4% this week. This was reliving to see. Just when housing activity looked like it was going to regress under last year's sales numbers they rebounded defiantly. This type of market action is indicative of a strong market especially when sales are outperforming in the winter months. Peoples Home Equity relates the slightly higher number of sales this year to America's ever improving jobs market. The number of individual's employment now has reached a level singles and families have finally had a time to save and improve their credit since the recession. American's can afford a down payment on a home now. A reason why weekly home sales may not be stronger right now is probably due to the high number of American's trying to finish their 2014 taxes. With ever increasing employment and wages, families want to show their probable higher income in 2014 versus 2013. Thus, Peoples Home Equity expects strong spring housing activity.
As for median home sale prices, Peoples Home Equity reminds readers that prices are being held up strong by nationally tight housing supplies. There just are enough homes available for sale to satisfy current demand. The majority of Americans are searching for value properties, especially investors. As more of these bargain priced properties get sold individuals are forced to look at higher priced homes. Existing homeowners who are not in financial turmoil have been waiting since prior to the housing bust to sell their property for at least the same price they purchased and they are willing to wait. Demand remains despite higher sale prices, especially among young first-time home buyers because currently the cost of a mortgage + HOA fees +taxes + utilities is often less than continuing to pay rent. First-time home buyers are very eager to stop paying rent, but they've been held back by a weak jobs market and high student debt, but that environment is changing with the stronger jobs market, unfortunately at the expense of higher sale prices. However, national home prices remain below housing bust levels in many cities and mortgage rates are at historic lows which means affording a home loan is very affordable at the moment.
If in need of a mortgage, contact a Peoples Home Equity loan officer today at: 262-563-4026