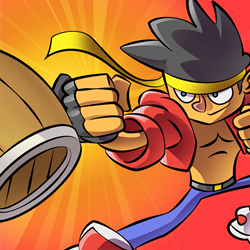 If Michael Jackson was a character in Street Fighter 2 then Barrel Buster would be the bonus round!
Melbourne, Australia (PRWEB) February 14, 2015
Gamers, arcade enthusiasts and anyone looking to kill a few minutes on a train will love the simplicity, hectic gameplay and nostalgic charm of Barrel Buster, an all-new smash-em-up from the Australian app development studio DreamWalk Interactive. Barrel Buster is DreamWalk Interactive's latest independent mobile game, following the success of their chart-topping arcade sports game Surfy. Barrel Buster is being released today (Feb 14, 2015) for iPhone and Android.
"If Michael Jackson was a character in Street Fighter 2, then Barrel Buster would be the bonus round," says Joseph Russell, the creative director on the game. Barrel Buster is a whole game dedicated to smashing falling barrels with the fighting style of Ryu and the dance moves and fashion sense of the King of Pop.
Play as Busta, the breakdancing bad-boy hell-bent on bustin' barrels. Karate is the style of choice — straight up, no frills. Kick, punch and destroy an onslaught of falling barrels before they mess up your day and your Jordans. Watch a quick gameplay demo here.
Barrel Buster features include:

Simple controls: One hand, tap to attack!
Tons of Barrels: Smash thousands of different colored barrels, all with different qualities!
Beat The Clock: Smash the required number of barrels in just 60 seconds. Smash green barrels to add time to the clock but watch out for red ones!
Combos: Smash more than three barrels in one attack and earn bonus time!
Original Soundtrack: Bust barrels and bust a move to an original retro 80s soundtrack!
Download Barrel Buster at the following links:
iOS Lite (Free)
iOS Full
About DreamWalk Interactive:
DreamWalk is a boutique app studio based in Melbourne, Australia, founded by brothers, Joe and Sam Russell in 2008. DreamWalk's most recent game, Surfy, reached #1 on the App Store sports games charts in Australia and New Zealand and was in the top ten action games around the world.