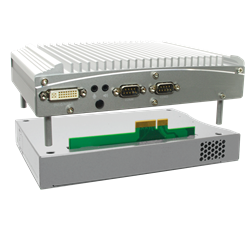 Nuvo-2500, the Bay Trail Compact System with PCIe/PCI Expansion Cassette
Taipei, Taiwan February 13, 2015 (PRWEB) February 14, 2015
Neousys launches Nuvo-2500, Intel Celeron Bay Trail system to complete the product range for fanless system with an expansion cassette. Powered by Intel Celeron Quad-Core J1900, Nuvo-2500 offers outstanding performance for entry level application. Integrated with Intel HD graphics, it performs 3D and video codec with excellent efficiency. With original Nuvo-3000 Intel 3rd Generation Core i7/i5/i3 Fanless system, the birth of Nuvo-2500 allows Neousys to cover requirements for expansion cassette system from entry-level to high-performance range.
Nuvo-2500 with 205mm (W) x 146mm (D) x 76mm (H) dimension is a super compact Bay Trail Fanless system supporting 1 slot PCIe/PCI expansion. Including two options for expansion, Nuvo-2500E supports one PCIex4 slot and Nuvo-2500P comes with 1x PCI slot. It meets the requirements of expandability for small system. Especially for limited space, the expansion capability brings Nuvo-2500 possibilities for dealing with different demands in a wide range.
Preserving Neousys patented expansion cassette design; it avoids thermal interference between the main system and expansion area. This makes Nuvo-2500 a stable system with an add-on card while operating under harsh environment. Targeting industrial market, Nuvo-2500 is able to operate under wide temperature range from -25 ℃ ~ 70 ℃ with 100% CPU loading. Plus wide DC input from 8~35 Voltage, it can be powered everywhere in safety due to the high tolerance for voltage variation.
When it comes to wireless communication, Nuvo-2500 displays its great capability. Built-in 1x half-sized mSATA socket with USB signal and 1 full-size mini PCIe socket with USIM enable Nuvo-2500 to support 3G, LTE, Wi-Fi and even Bluetooth. Nuvo-2500 can be applied to networking application which requires wireless communication.
In addition to the standard functions narrated above, an option of Aux I/O ports is available for Nuvo-2500. It is DB-37 female connector with 4x DI, 8x DO, 6x PWM (Pulse-width Modulation), 1x Encoder and 2x ADC signal. This allows the system to do various control application, such as controlling server motor, stepping motor and so on.
Nuvo-2500 features a compact fanless computer with expandability of PCIe/PCI cards. Plus reliable design and communication capability, Nuvo-2500 is the ideal solution for small space application, such as vending machine, kiosk, and control cabinet. For more detail, please visit Neousys website: http://www.neousys-tech.com/fanless-pc/nuvo-2500/
About Neousys Technology Co., Ltd.
Founded in 2010, Neousys Technology designs and manufactures rugged embedded platforms and modules. With the core expertise ranging from embedded computing to data acquisition and processing, the goal is to innovate and integrate feature sets into products for various vertical markets and with simply intelligent architecture.
Media Contact: marketing(at)neousys-tech(dot)com
Inquiry: sales(at)neousys-tech(dot)com