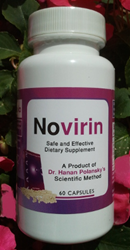 Lesbians don't get screened for HPV infection as often as heterosexual women. (1)
Rochester, NY (PRWEB) February 16, 2015
"Infected with the human papillomavirus (HPV)? The CBCD recommends taking Novirin." - Greg Bennett, CBCD
Lesbians don't get screened for HPV infection as often as heterosexual women. (1) University of Washington researchers said this is "due partly to doctors' sometimes incorrect assumptions about their sexual history … that is because the disease is most commonly transmitted during heterosexual sex and doctors may wrongly assume lesbians have only had sex with other women, despite studies that have found most lesbians and their partners have had sex with men." (1) Many lesbian and bisexual women risk their lives unnecessarily. "Lesbian and bisexual women are at risk of contracting HPV which is the cause of 99.7% of cervical cancers. Therefore all eligible women, regardless of their sexual orientation, should have regular cervical screening." - Robert Music, director of Jo's Cervical Cancer Trust (See GaystarNews, from June 10, 2013) (2) Because the HPV virus can infect women of every sexual orientation, the CBCD recommends that lesbian and bisexual women take Novirin. This HPV remedy was shown to effectively reduce HPV symptoms in two separate post-marketing clinical studies that followed FDA guidelines.
Click to learn more about HPV symptoms.
The formula of Novirin was tested by Hanan Polansky and Edan Itzkovitz from the CBCD. The studies showed that the Novirin formula is effective against the human papillomavirus (HPV). The clinical studies were published in the peer reviewed, medical journal Pharmacology & Pharmacy, the first, in a special edition on Advances in Antiviral Drugs. Study authors wrote that, "individuals infected with HPV…reported a safe decrease in their symptoms following treatment…." (3) The study authors also wrote that, "We observed a statistically significant decrease in the severity, duration, and frequency of symptoms." (3)
Novirin can be ordered on the product website here: http://www.novirin.com
Novirin is a natural antiviral dietary supplement. Its formula contains five natural ingredients: Selenium, Camellia Sinensis Extract, Quercetin, Cinnamomum Extract, and Licorice Extract. The first ingredient is a trace element, and the other four are plant extracts. Each ingredient and its dose was chosen through a scientific approach. Scientists at polyDNA, the company that invented and patented the formula, scanned thousands of scientific and medical papers published in various medical and scientific journals, and identified the safest and most effective natural ingredients against latent viruses. To date, Novirin is the only natural antiviral product on the market with published clinical studies on its formula that supports its claims.
Professor Joachim Voss said "If we are serious about reducing the rates of cervical cancer in lesbians, an unbiased health assessment by a provider must ask the question: 'Do you have sex with men, women or both?'" (1) Professor Joss is from the University of Washington School of Nursing.
"Screening every three years can detect abnormal cervical cells and pre-cancerous lesions in women ages 21 to 65, but lesbians are screened at rates 5 percent to 18 percent lower than heterosexual women because of the perceived lack of risk exposure. HPV can be transmitted between women partners through both skin-to-skin contact and contact with sex toys." (1)
The CDC notes that "HPV may … be passed on during oral sex and genital-to-genital contact. HPV can be passed on between straight and same-sex partners-even when the infected partner has no signs or symptoms." (See the CDC's Website, last updated on February 5, 2013) (4).
What treatments are currently available against the HPV?
"There are no drugs approved against the HPV. Current treatments include procedures, such as cryotherapy, conization, and the Loop Electrosurgical Excision Procedure (LEEP). These procedures use liquid nitrogen, a surgical knife (scalpel), a carbon dioxide (CO2) laser, or electrical current to remove the abnormal growths caused by the HPV. These growths include cells that harbor the active virus. The procedures do not target cells with the latent virus. Since they do not remove the latent virus, these procedures only produce a temporary remission." (3) In contrast, the formula of Novirin was designed to target the latent HPV.
Click to learn more about Novirin and HPV.
All orders of Novirin are completely confidential and no information is shared or sold to any third party. Privacy is assured.
Reference:
(1) FoxNews.com – "Lesbians may be at heightened risk of cervical cancer, study says." Published February 11, 2015.
http://www.foxnews.com/health/2015/02/11/lesbians-may-be-at-heightened-risk-cervical-cancer-study-says/
(2) Patel, R. "Lesbian and bisexual women warned of deadly cervical cancer risk." Gaystarnews.com. Published June 10, 2013.
http://www.gaystarnews.com/article/lesbian-and-bisexual-women-warned-deadly-cervical-cancer-risk100613
(3) Polansky, H. Itzkovitz, E. Gene-Eden-VIR Is Antiviral: Results of a Post Marketing Clinical Study. Published in September 2013.
http://www.scirp.org/journal/PaperInformation.aspx?PaperID=36101#.U-s9ouOSz90
(4) CDC.gov - Human Papillomavirus (HPV). Page last reviewed: February 27, 2014.
http://www.cdc.gov/std/hpv/