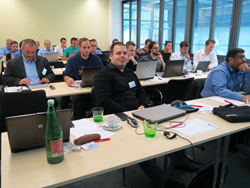 Boston, Massachusetts (PRWEB) February 19, 2015
Resco, the creator of the market favorite mobile CRM client for Dynamics CRM, announces it will be hosting a full-day workshop featuring Resco Mobile CRM.
The workshop will be held on March 15, one day before the official start of Microsoft Convergence 2015, at the Embassy Suites in Atlanta, Georgia.
"Each year around this time we organize a training for all mobile CRM enthusiasts. This is especially convenient for those who are attending Convergence." says Ivan Stano, COO at Resco.
The workshop provides a suitable frame for Resco's and Microsoft's partners and customers to exchange experiences and gain deeper knowledge of Resco Mobile CRM. "We want to empower the System Administrators of Dynamics CRM of all skill levels. During the workshop, they will obtain an in-depth insight into Woodford, the customizing tool for the Resco Mobile CRM client, and have the opportunity to discuss their questions." Ivan Stano concludes.
Convergence is the premier event for Microsoft partners and customers to network and learn about the latest Microsoft Dynamics solutions, programs and cutting-edge technologies. Resco will be exhibiting at Convergence 2015 in booth #618 in the Expo hall.
About Resco Mobile CRM
Resco Mobile CRM is a Microsoft Dynamics CRM mobile client solution that offers advanced customization capabilities. The application supports features such as custom entities, interactive maps, GPS tracking, photo capturing, dashboards, and many more. Supported mobile platforms: iOS (iPhone, iPad) — Android — Windows
For more information visit: http://www.resco.net/mobilecrm