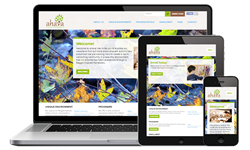 Through the medium we have created to inform parents about the program, children will gain thoughtful leadership experience at the center.
Atlanta, Georgia (PRWEB) February 15, 2015
Ahava is a new preschool associated with the Ahavath Achim Synagogue in Atlanta, and Black Bear designed a beautiful website that would speak to the innovation of this new parochial school.
Ahava, metro Atlanta's newest Reggio Emilia inspired Jewish preschool, is devoted to providing children with a multi-sensory, child-centered experience for learning and play. This approach seamlessly combines real-world exploration with Jewish values to help them develop to their highest potential in a diverse and caring community of lifelong learners. Ahava's foundation and future are woven intrinsically into the fabric of the Ahavath Achim Synagogue community.
Black Bear designed Ahava's logo to highlight both the holistic education style along with the energy and vibrancy of children learning and growing. Addressed with clean lines and subtle distinctiveness, the logo holds its own while complimenting the Ahavath Achim Synagogue brand, with which the school is associated.
Stephanie Stone is Ahava's Director of Communications and Marketing. As part of the school's initiative to connect with parents, Ahava set out to make an impact through a strong web presence. "We chose to work with Black Bear Design for our logo, branding, and custom website design after interviewing a few different local companies. We had a wonderful experience working with the entire team and could not be happier with the results. They took time to work with us and went above and beyond what was promised. I highly recommend them for anyone looking for web design or graphic design services."
The new Ahava website, created with the user experience firmly in mind, has been designed using the latest technology so the site is compatible with today's browsers and mobile devices. The goals of the project were to build a responsive website that had a great user experience across multiple devices, information regarding education style, detailed nutritional information, tuition costs, program details, enrollment materials, a calendar of events, answers to frequently asked questions, and much more.
Joel Black, Founder of Black Bear Design, discusses the design of Ahava's website, "The Ahava project was a unique opportunity for Black Bear. We are usually helping business leaders grow their companies by developing websites and marketing solutions. With Ahava however, while our part is small in the overall picture, we like to think we are helping future business leaders develop the skills in childhood through Ahava's early learning program." He went on to say, "Through the medium we have created to inform parents about the program, children will gain thoughtful leadership experience at the center. The future potential is limitless, and it feels great to be a part of that story."
ABOUT BLACK BEAR DESIGN
For more than a decade, Black Bear Design has been delivering stunning graphic design, corporate identity, web design and development of websites for a wide range of B2B and B2C clients. Black Bear's design and marketing expertise spans all aspects of online business, including e-commerce, retail, manufacturing, communications, professional services, real estate, mortgage and non-profit industries.
Black Bear Design offers multiple graphic and web marketing services, including website design/redesign, search engine optimization (SEO), retained services, marketing automation, ongoing web maintenance, pay-per-click (PPC) marketing, brand development, print design, and much more. To learn more about Black Bear Design, visit http://www.blackbeardesign.com or give them a call at (678) 534-1143.