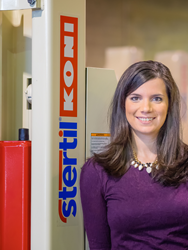 Allison's expertise and enthusiasm meld seamlessly with the customer-centric focus of Stertil-Koni.
Stevensville, Maryland (PRWEB) February 17, 2015
Stertil-Koni, the leader in heavy duty vehicle lifts, notably bus lifts and truck lifts, today announced that Allison Dyott has joined the company as Marketing Associate. She succeeds Paige Stewart, who now serves as Logistics Specialist at Stertil-Koni.
In her new role, Dyott brings nearly ten years' experience with content development, customer outreach, event marketing and logistics, and media relations. She spent a large portion of her career working for National Conference Services, Inc. (NCSI) in Columbia, Maryland, where she steered a team of sales and event marketing professionals in producing 80+ annual conferences and events for the U.S. government and military, both stateside and internationally.
Dyott also has a substantial background in CRM management, collateral development and editing, and e-marketing campaigns.
In making today's announcement, Paul D. Feldman, Director of Marketing at Stertil-Koni, stated, "Allison is a very strong addition to our rapidly growing company. Her expertise and enthusiasm, coupled with her keen eye for detail and strong dedication to exceptional service, all meld seamlessly with the customer-centric focus of Stertil-Koni."
Dyott holds a Bachelor of Arts Degree from St. Mary's College of Maryland, and resides with her family near Annapolis, Maryland.
About Stertil-Koni
Stertil-Koni, a brand of the Stertil Group, is the global market leader in heavy duty vehicle lifts – bus lifts and truck lifts – and is the preferred supplier to the world's leading companies in the truck and bus industries. Stertil-Koni's breadth of products meets all ranges of lifting needs and includes mobile lifts, two-post, four-post, in-ground piston lifts, parallelogram lifts, half-scissors and its innovative axle-engaging, in-ground, scissor lift configuration, ECOLIFT. Stertil-Koni is also now installing DIAMOND LIFT across North America, a full rise telescopic piston lift designed to set new standards in precision heavy duty lifting. Stertil-Koni USA is headquartered in Stevensville, Maryland. Stertil-Koni has production facilities in Europe in The Netherlands, and in the USA in Streator, Illinois.