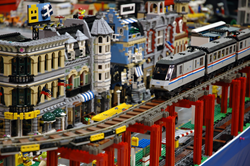 "If your children love trains, this is the show for them," says Jim Osborn High Wheeler Public Relations Trainmaster. "Trains are set up and running everywhere at the High Wheeler Train Show, there is just so much to see."
Palatine, IL (PRWEB) February 16, 2015
It's trains, trains, trains down at Harper College February 28 and March 1 as the High Wheeler Train Show returns for another weekend of family fun.
The High Wheeler Train Show has been enchanting visitors of all ages for the past 37 years in Palatine, Il. - just 45 minutes northwest of Michigan Avenue. Many cite it as a unique opportunity to pass their love of model railroading on to their children and grandchildren.
"If your children love trains, this is the show for them," says Jim Osborn High Wheeler Public Relations Trainmaster. "Trains are set up and running everywhere at the High Wheeler Train Show, there is just so much to see."
From a layout made completely out of LEGO® bricks to an expansive 2,400 sq. ft. world by the LGB Club of Chicago, there's plenty to see in the Athletic Center at Harper College. Visitors can check out 20 model railroads, browse what's new from local vendors and take the fun home with activities from the Kids Activity Area.
Visitors from all over the Midwest are drawn to the High Wheeler Train Show as an affordable way to spend a day with the whole family. Ticket prices are less than 10 dollars for adults, kids from 5 to 12 can get in free with an online voucher available online, and children under 5 are always free.
The Kids Activity Area has expanded for another consecutive year: this year, young visitors will be able to make and take home a train station, compliments of Walthers.
Pre-registration required online at http://www.highwheelertrainshow.com. On Sunday, only from 1 pm to 4pm, there will be a balloon artist and face painting.
Experts from local historical societies and museums in the Chicagoland area will be on-hand during the weekend to share the legacy of railroads in the Midwest. Visitors can also spot experienced modelers from across the state giving demonstrations and behind the scenes peeks into how the layouts are created.
The High Wheeler Train Show is open from 9 a.m. to 5 p.m. Saturday, February 28 and Sunday, March 1. The fun begins at building M at the Athletic Center at Harper College in Palatine, Il.