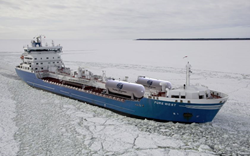 Taylor-Wharton is proud to bring our patent pending Sea Blue technology and strong European manufacturing to this project.
Minnetonka, MN (PRWEB) February 13, 2015
Taylor-Wharton is proud to announce plans to provide a complete onboard LNG Fuel System including two 255m3 Type C storage tanks for Sweden's Furetank Rederi AB. Furetank is seeking to comply with international environmental rules for low sulfur emissions by converting an oil and chemical cargo tanker – 472 foot Fure West. The Joint Industries Project "LNG-CONV" will convert the main engine to consume clean burning natural gas.
Furetank reports, "Together with the engine maker MaK in Germany, supplier PON Power in Denmark, Taylor-Wharton which will manufacture the tanks and LNG fuel system in Slovakia and the fact that the work will be carried out in a yard in the north of Europe, makes the project LNG CONV stay true to the wish from the Commission, to use European workmanship."
"Taylor-Wharton is proud to bring our patent pending Sea Blue technology and strong European manufacturing to this project," said Bobby Cushman, Vice President of CryoLNG for Taylor-Wharton.
Taylor-Wharton will manufacture the tanks, bunkering skids, vaporization skids and control system for Fure West in Kosice, Slovakia. Twin 255-cubic-meter (67,360-gallon) tanks will be installed and will power the main MaK 7M46DF engine and at least one of the three Caterpillar 3058 auxiliary engines will be altered to use LNG fuel as well.
"This project will highlight our continued investments in LNG technology and experienced LNG people worldwide," said Eric Rottier, Chairman and CEO for Taylor-Wharton LLC.
About Furetank
Furetank is a full scale shipping company based in Donsö, Sweden which can provide all services needed to meet the demands from existing and future customers. Among the services provided are technical, crewing, safety, vetting and chartering departments. Furetank's Commercial controlled fleet includes 18 vessels and is a member of the Gothia Tankers Alliance.
About Taylor-Wharton Cryogenics
Taylor-Wharton Cryogenics LLC designs and manufacturers a comprehensive range of stationary bulk and portable cryogenic storage systems for gas and liquid applications. The company, which traces its roots to 1742, operates manufacturing and warehouse facilities in the United States, Malaysia, China, Slovak Republic, Germany, and Australia; thereby being strategically positioned to support the world's major industrial markets. The extensive Taylor-Wharton product range includes cryogenic bulk tanks, micro-bulk tanks, transportable liquid cylinders, LNG (liquefied natural gas) storage and application systems, cryogenic beverage carbonation vessels, and freezers and dewars for cryopreservation.