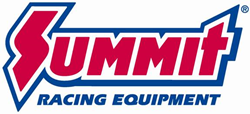 Tallmadge, OH (PRWEB) February 13, 2015
PowerNation TV and Summit Racing have teamed up to refurbish the BIGFOOT 1, the world's first monster truck. Power Nation's Engine Power is rebuilding the supercharged 640 Ford--aptly named Blunt Force Trauma- back to original specifications, complete with NOS parts like the ones used in the original build.
As expected for an engine going on 40 years old, BIGFOOT's 640 Ford needed a good overhaul. The original block, heads, supercharger case, valve covers, and other items were retained to keep the engine looking original. The bottom end was freshened with parts from CP/Carillo, Crower, Total Seal, Clevite, and Fel-Pro. The massive Hemi-style cylinder heads were rehabbed with Manley valves, valve springs, locks, and retainers from Summit Racing. COMP Cams donated a custom-grind roller camshaft and roller lifters. The triple Predator carburetors were rebuilt, as were the BDS supercharger, Milodon water pump, and Aviad external oil pump. MSD supplied the Pro Mag 12 magneto and ignition wires.
The Engine Power BIGFOOT episode will air over the next week on Spike TV, CBS Sports, and NBS Sports networks—find the schedule here. Check local listings for exact times. Summit Racing will be posting reminders about the rest of the BIGFOOT resto shows as well
Summit Racing Equipment
http://www.SummitRacing.com
1-800-230-3030