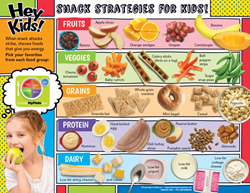 Owatonna, MN (PRWEB) February 13, 2015
Snack time is a great time for kids to eat foods that benefit their growing bodies. Snacks add nutrients between meals and hels kids concentrate by keeping their energy levels high. The new Snack Strategies Handouts from Learning ZoneXpress will help children choose snacks that give their bodies the nutrients and energy that they need. The front side of the handout features photos of tasty and healthy snack choices organized by food group. The backside includes snack suggestions by food group and explains to parents and caregivers why snacks are important for young, growing bodies.
Here are some ideas for choosing healthy snacks:

Choose from a rainbow of colorful vegetables
Choose whole grains for long-lasting energy
Choose protein foods that are low-fat
Choose low-fat or fat-free (skim) dairy foods
Remember to keep portions small- Snacks should not replace a meal
Making the right snack choices is a necessary part of choosing a healthy lifestyle! Visit Learning ZoneXpress for additional National Nutrition Month resources.
Learning ZoneXpress, based in Owatonna, MN, is a leading source of award-winning nutrition education resources. Its mission is to improve the health and vitality of people by providing relevant, creative and affordable teaching tools about healthy behaviors and nutrition. Learning ZoneXpress offers a wide variety of educational products including posters, handouts, videos, games and lesson plans. For more information about Learning ZoneXpress, visit http://www.learningzonexpress.com or call Toni Meyer at 888-455-7003.