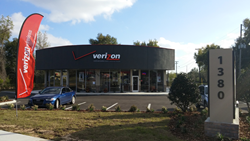 It just made a lot of sense for us to expand into Apopka to better serve that community.
APOPKA, Fla. (PRWEB) February 16, 2015
Cellular Sales, the nation's largest Verizon premium wireless retailer with approximately 545 U.S. locations, is announcing it has opened a store in Apopka.
The store, which opened on Jan. 30, is located at 1380 W Orange Blossom Trail. The opening of the store brings 10 new jobs to Apopka. This is Cellular Sales' first store in Apopka, though the company operates stores in Ocoee, Orlando, Winter Park and other nearby cities and towns.
"We are very familiar with Orlando and the surrounding communities," Cellular Sales Regional Director Chris Keen said. "Until now, we didn't have a store in Apopka, despite having several locations throughout the Orlando and Central Florida area. It just made a lot of sense for us to expand into Apopka to better serve that community."
Cellular Sales has a significant presence in the Sunshine State. The company operates nearly 90 stores, and in 2014 it opened more stores in Florida than in any other state.
Customers can find a broad range of products at Cellular Sales, from smartphones and tablets to home internet service and DirecTV. The company prides itself on providing excellent customer service, which has been a principle focus since the company was founded in Knoxville, Tenn., in 1993.
"Each customer receives our full attention," Keen said. "Our sales representatives are intent on listening to our customers' needs, and we make sure that each and every person who walks into our store receives the care they deserve."
Those interested in applying for jobs at the Apopka store should visit the Cellular Sales employment page to search available opportunities or contact Cellular Sales Recruiter Christine Bonfante. She can be reached by emailing Christine(dot)Bonfante(at)cellularsales(dot)com.
About Cellular Sales
Headquartered in Knoxville, Tenn., Cellular Sales was founded in 1993 and has been named by Inc. Magazine as one of the nation's fastest-growing privately owned retailers for six of the past seven years. The company currently employs nearly 4,500 people and operates approximately 545 stores nationwide. Job seekers may visit joincellularsales.com to search current openings at the Apopka, Fla., store. For more information on the company, visit cellularsales.com.
# # #