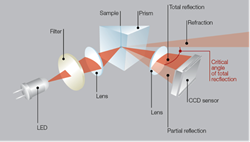 NaOH is everywhere, and Anton Paar is there to measure it.
Ashland, VA (PRWEB) March 06, 2015
Anton Paar has released an application flash regarding determination of sodium hydroxide concentration by utilizing laboratory refractometers. Sodium hydroxide (NaOH, also known as lye or caustic soda) is used in producing a variety of products including pretzels, colored fabrics, soap and aluminum foil. This strong base is a staple of the chemical industry; its applications range from the food and beverage industry to petroleum – and nearly everything in between. NaOH is used in the production of downstream products like solvents, plastics, fabrics, adhesives, herbicides, dyes, inks and pharmaceuticals.
The above products, like many others, require the determination of NaOH concentration for product consistency. Traditionally, titration is used to determine this value, but this process is time-consuming, laborious and imprecise. NaOH tends to absorb both water and carbon dioxide from the air, so the longer the measuring process, the more the NaOH solution will be affected. This leads to reduced accuracy of the concentration measurement.
In contrast to this, the Abbemat refractometer series from Anton Paar is particularly suited to this task and offers a quick and easy solution for high-precision measurements of NaOH concentration. The Abbemat Performance Plus Line can be equipped with a peristaltic pump and micro-flow cell to safely deliver NaOH to the prism, while minimizing contact with the atmosphere. Internal Peltier elements precisely control sample temperature for quick, accurate determination of refractive index and concentration.